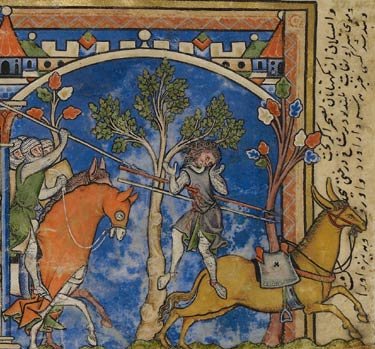 Leaf from the Morgan Bible, French, northern France, about 1250, MS. LUDWIG I 6.
Drama. Politics. Romance. Bloodshed. Dragons. Medieval Times.
These are not just descriptors of our illuminated manuscripts, but also celebratory words to commemorate the return of Game of Thrones!
Stay tuned each week as we unpack Sunday's episodes through medieval masterpieces.
All Men Must Die.
Hat tip to Madame Scherzo.
——————————-
Ed West, at Breitbart, argues that "Game of Thrones" provides a better education in Medieval History than you'll get at one of our PC universities these days.
Most historical fiction basically features a protagonist with 21st century values wearing a codpiece; I gave up on the Tudors when Cardinal Wolsey started giving a lecture on why we needed a 'European community'. Most people in Britain think the EU is a pretty stupid idea today; in the 16th century it would have been inconceivable, even if Wolsey's Treaty of London talked about 'perpetual peace' in Europe (a peace that was broken almost immediately, because that's how things were).

Even the most sympathetic characters in Thrones, and I won't give any spoilers for season four, end up doing some appalling things in the later books, not because they're villains but because that's the way the world was then, and how it is for much of humanity today. Bloody awful.

But there is a deeper implication for the success of Thrones; most people in England would be pretty ignorant about these historical parallels, because of the revolution in history teaching that took place in the dark, sexually weird decade that was the 1970s, part of a wider cultural revolution aimed at transforming western societies (and which has its parallel in the US).

Whereas my father's generation would have learned about the kings of England at school, the bloody battles and usurpations, the poisonings, the tortures and the love affairs, and King Harold getting shot in the eye, by the time I was taught the subject the sort of questions we were asked went along the lines of 'How would the social changes experienced during the 15th century have impacted on a female weaver living in Norfolk?' Or 'Look at Source A and Source B; what differences can you spot and why might that have been? Anyway, children, next term we'll be reading about the Nazis. Again.'