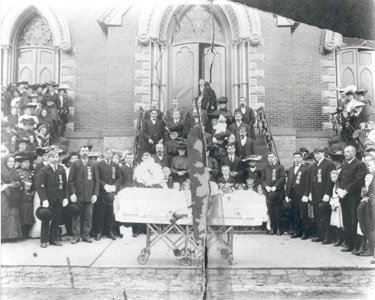 Funeral of my grandmother's brother, Joseph Skarnulis, killed in Tunnel Ridge Colliery, Mahanoy City, Pennsylvania, October 6, 1905. While crossing the breast to see if the manway was open, a fall of coal caught him, killing him instantly. My Aunt Rose (born 1901 — died 1988) is the little girl at the head of the coffin. My Aunt Ann (born 1900 — died 2000) is the little girl peeping over the coffin to her left. My grandmother, Martha, is the lady with the big hat cut in half by the break in the photo. My grandfather, George Zincavage, is the fellow with the droopy mustache to her right.
Commenter Chris writes:
1. We control our border. If we cannot do this what's the point of being a nation
"Controlling our borders" is a slogan. In reality, the United States has thousands and thousands of miles of border passing through uninhabited, empty wilderness which any really determined person can cross. We can't control those borders completely because the economic cost of doing so would be ridiculous and the benefit trivial. We can't control our borders perfectly for the same reason nobody can conquer Afghanistan: It would be a tremendous waste of money, so no one is ever going to do it.
Some loons want to built a barbed wire fence all the way from the Gulf of Mexico to the Pacific. What a noxious symbol of statist irrationality and inhumanity that would be! We'd have our own Berlin Wall, but enormously longer, where we could shoot people for trying to come here in order to better their lives, instead of for trying to escape.
2. We DO NOT implement Amnesty. What point is having laws on the books if we're going to abrogate them whenever we please?
The problem with this argument is that existing immigration rules embody no real principles, serve no specific purposes, and reflect no real national consensus. They represent only this particular edition of bureaucratic modification cobbled together during a period of national confusion and bitter political division.
Why should anybody give a rat's rear end if somebody else violates a basically unprincipled, ill-considered, and fundamentally pointless regulation? Personally, I want to see my lawn mowed, my roof fixed, and the world's work in general done as well and as economically as possible. I don't really care about the genealogy or national origin of the guy cutting my grass or picking the apples I buy. If the steak I buy at the local Bistro is more affordable because the busboy and the guy washing the dishes snuck into the country to take those jobs, I think that's just great, and I wish those Hispanic gentlemen the best.
3. Deport those illegals involved in Criminal activity.
I can go along with that one, though I'd personally prefer no laws on the books criminalizing victimless crimes.
4. Prosecute any company paying less than minimum wage to their employees (not sure that's even an issue)
If I were on the Supreme Court, I'd write you a ruling explaining why government interference with voluntary contracts between one American or one business entity an another are unconstitutional and are economically deleterious to society. There is no such thing as a just price other than a price voluntarily agreed to between to parties. The imposition of fixed pricing by law represents the illegitimate intrusion of governmental force on behalf of one party to the injury of another and of the whole of the rest of society.
Do those 4 things there won't be a need for amnesty, because in a generation everyone here illegally will be eligible for some form of legal immigration, either through anchor babies, marriage etc.
My wife immigrated here from Canada. We got caught in the 86 amnesty legalization surge and a process that took 3 months ended up taking 3 years because of the volume of illegals that gained legal status. That's BS of the first order that!
This has nothing to do with race but with FAIRNESS. What you are advocating is unfair to those that cannot run, jump, or swim the border. Why should Hispanic illegals get any preferential treatment? Get in line if you want to come here…. everyone else had to.
This is the Michelle Malkin argument. The problem with it is that compliance with unprincipled and essentially useless regulations really benefits nobody. What we ought to want is what's good for the country. What's good for the country is the free flow of willing and affordable labor and all benefits of a continued population increase comprised of the most dedicated, energetic, and ambitious citizens of foreign lands. I want my lawn mowed. I want my fruit and vegetables picked. I want low-skill jobs done cheap. I don't care if the guy doing them said "Simon says" or stood in the proper line or filled out the right forms.
Even my 9th great grandfather that came over from Wales in 1658.
He stood in line to get here in 1658? I do not understand what you mean.