15 Jun 2016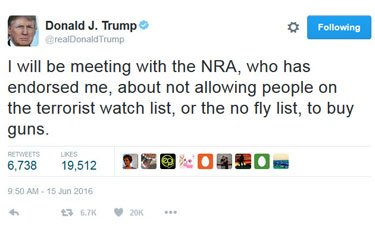 Trump just joined Chuck Schumer and Diane Feinstein in coming out for no-due-process, at-will suspension by unelected federal officials of a constitutional right.
Why bother trying to pass any new Gun Control Law, when one federal agency or another can simply add anyone (or everyone) to a list of people now instantly, abracadabra! without constitutional rights?
What Constitution? What Rule of Law? Trump would say. We have to be smart.
This is where you wind up when you choose a pragmatist unconstrained by principles or ideas as your leader. Of course, we already had lots of professional leaders of the same kind already. They are called liberals and democrats. Donald Trump is the same thing, just appearing currently in a conservative clown suit and pretending to be a brave opponent of Political Correctness. The real Trump is completely indifferent to political philosophy, principles, theory, and ideas. The real Trump is a sociopathic narcissist driven to personal aggrandizement at any cost. He's exactly the same kind of creature as Hillary Clinton or John Kerry, just more vulgar and with a more limited vocabulary.
So he's backtracked on Gun Control. Put him in office (if you can, which many of us doubt) and watch him backtrack on everything else, including those promised conservative Supreme Court appointments which you keep arguing justify supporting this orange-faced mountebank with a woodchuck on his head for president. Wake up, Trumpkins!