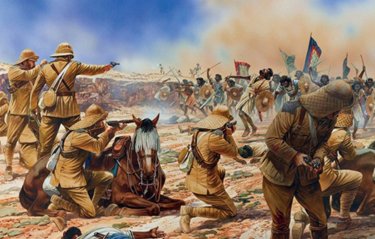 Battle of Omdurman, 2 September 1898.
I had words on Facebook with James Delingpole this morning, consisting of my dissenting from his agreement with Boris Johnson's Telegraph editorial echoing the left-wing perspective that it was the removal of Saddam Hussein from power by a coalition of 49 countries led by the United States in 2003 which, eleven years later, is the cause of the latest outbreak of barbarians in that part of the world.
Boris the blonde (who obviously devoted his time at Oxford to partying and up-sucking, rather than critical reflection) faithfully parrots the international community of fashion's articles of faith.
The truth is that we destroyed the institutions of authority in Iraq without having the foggiest idea what would come next. As one senior British general has put it to me, "we snipped the spinal cord" without any plan to replace it. There are more than 100,000 dead Iraqis who would be alive today if we had not gone in and created the conditions for such a conflict, to say nothing of the troops from America, Britain and other countries who have lost their lives in the shambles.
No, Boris, your "more than 100,000 dead Iraqis" figure is only a supposititious estimate cooked up for propagandistic purposes, and whatever quantity of Iraqis wound up as casualties in the course of opposing Coalition military operations or as incidental collateral damage was obviously not the fault of George W. Bush (or Tony Blair), but their own fault and the fault of Saddam Hussein and the rest of the Nationalist-Socialist leadership of that country which chose to adopt an extraordinarily belligerent and anti-Western posture and which defiantly undertook to violate an existing armistice agreement.
It is, moreover, obviously totally impossible to tell today just which and how many Iraqis might still be alive, absent the 2003 and invasion and the removal of that regime from power. Possibly some even greater number of Iraqis might have died at the hands of their own regime, in another major war instigated by Saddam, or via American retaliatory strikes after WMDs provided by Saddam's regime to non-state jihadi actors were used to kill massive numbers of innocent Western civilians.
Many of the same countries participating in the 2003 invasion of Iraq previously participated in the 1944 invasion of Normandy aimed that the "destruction of institutions of authority" and "snip[ping] the spinal cord" of a highly similar regime to that of Saddam's, erected in point of fact on the same foundation principles of (aggrieved) Nationalism and (militarist and despotic) Socialism. No one sheds a tear for the far more than 100,000 Germans, Austrians, Hungarians, and other Europeans slain in the course of opposing that coalition, nor for the many hundreds of thousands of civilians at that time intentionally targeted as the objects of strategic bombing.
The real differences, of course, reside in the much larger scale of WWII casualties and destruction, and in the thorough and completely ruthless post-war de-Nazification of the enemy.
The real tragedy in Iraq is that coalition efforts at regime change were too limited and piecemeal, too half-hearted and too confused in purpose. The WWII allies reduced their opponents to prostration and unconditional surrender, then occupied and ruled them for years, completely and fundamentally liberalizing, democratizing, and remodeling their cultures along our own lines. We attempted no such thing in Iraq, instead deluding ourselves with fantasies of being welcomed as liberators by friendly natives and trusting that the gift of democracy would in itself suffice to convert murderous and bigoted Mussulmen into bourgeois liberals.
It only required the setback of an unexpected Insurgency to unleash the hounds of treason and pacifism throughout Western intelligentsia circles. George W. Bush and his coalition allies found themselves far more effectively under attack from behind in the Times, the Post, and the Guardian than they ever were in Fallujah or Ramadi.
Boris Johnson would be right if he had attacked George W. Bush and Tony Blair for failing to put domestic traitors behind barbed wire and for not finishing the job, but when he accuses them of destroying some kind of legitimate authority or when he implies that Iraq would be better off under Saddam, he is just being a conformist tool and a complete ass.