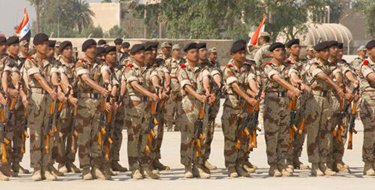 The Iraqi army has 250,000 troops; its enemy, the Islamic State of Syria and the Levant (ISIS), somewhere around 7,000, but the Iraqi Army has been losing. To understand why such a large army is so ineffective, one should read the classic 1999 essay by Colonel Norvell B. De Atkine.
Most Arab officers treat enlisted soldiers like sub-humans. When the winds in Egypt one day carried biting sand particles from the desert during a demonstration for visiting U.S. dignitaries, I watched as a contingent of soldiers marched in and formed a single rank to shield the Americans; Egyptian soldiers, in other words, are used on occasion as nothing more than a windbreak. The idea of taking care of one's men is found only among the most elite units in the Egyptian military. On a typical weekend, officers in units stationed outside Cairo will get in their cars and drive off to their homes, leaving the enlisted men to fend for themselves by trekking across the desert to a highway and flagging down busses or trucks to get to the Cairo rail system. Garrison cantonments have no amenities for soldiers. The same situation, in various degrees, exists elsewhere in the Arabic-speaking countries—less so in Jordan, even more so in Iraq and Syria. …

The social and professional gap between officers and enlisted men is present in all armies, but in the United States and other Western forces, the noncommissioned officer (NCO) corps bridges it. Indeed, a professional NCO corps has been critical for the American military to work at its best; as the primary trainers in a professional army, NCOs are critical to training programs and to the enlisted men's sense of unit esprit. Most of the Arab world either has no NCO corps or it is non-functional, severely handicapping the military's effectiveness. With some exceptions, NCOs are considered in the same low category as enlisted men and so do not serve as a bridge between enlisted men and officers. Officers instruct but the wide social gap between enlisted man and officer tends to make the learning process perfunctory, formalized, and ineffective. The show-and-tell aspects of training are frequently missing because officers refuse to get their hands dirty and prefer to ignore the more practical aspects of their subject matter, believing this below their social station. A dramatic example of this occurred during the Gulf war when a severe windstorm blew down the tents of Iraqi officer prisoners of war. For three days they stayed in the wind and rain rather than be observed by enlisted prisoners in a nearby camp working with their hands.
Read the whole thing.