03 Jul 2022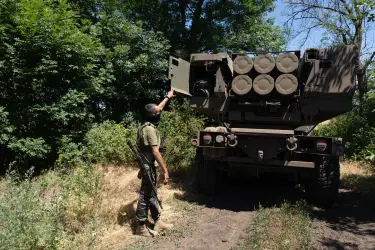 US-supplied HIMARS multiple rocket launcher.
Maybe, says Lawrence Freedman.
[T]he Russians are unlikely to keep on fighting should it become clear that they are likely to be defeated.

One lesson from the Snake Island episode, as well as the withdrawal from Kyiv, is that the Russian commanders can recognise when they are in a losing position and withdraw rather than take unnecessary punishment. Because we have been through a period of slow, grinding advances from Russia there is a tendency to assume that Ukraine will also have to overcome a tenacious Russian defence, that the third stage may look like the second, except with the roles reversed.

This is not as obvious as it may seem. Not only will Ukrainian tactics likely differ but, if they start being pushed back, the Russians will need to decide how much they really want to hold on to territory at the expense of preserving what is left of their army. If, at some point, the Russian command see only adverse trends ahead they may consider the long-term and the need to maintain their armed force to deal with future threats, other than Ukraine. Russia cannot afford an inch by inch retreat to the border, taking losses all the way. At some point they may need to cut their losses. This would be the point where they might urge Putin to engage in serious negotiations (for example reviving earlier proposals on a form of neutrality in return for full withdrawal) to provide political cover for their withdrawal.

Whether or not we get to this stage is a different matter. The challenge for Ukraine is to develop an offensive with some momentum to the point where there is no readily available way for it to be reversed by the Russians. This is a challenge because the Ukrainians will need to advance by means that do not solely involve direct assaults on Russians positions. Over the next few weeks we should start to get some sense of whether Ukraine can start to take the initiative and impose its own priorities on Russia rather than the other way round, and how well the Russians are able to respond to the steady improvement of Ukrainian capabilities. Should Ukrainian forces be able to create any momentum, however, then the situation could move in their favour very quickly. Can the Ukrainians win? Yes. Will the Ukrainians win? Not yet clear, but the possibility should not be dismissed.