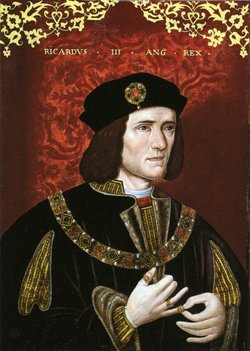 Unknown artist, King Richard III, late 16th century, National Portrait Gallery.
Chemical analysis of the bones and teeth of the skeleton found beneath the Leicester parking lot seems to confirm its identity as the remains of Richard III, the last Plantagenet king of England.
CNET:
According to a study performed by the British Geological Survey and researchers at the University of Leicester, the king changed location and diet early in his childhood, and then, when he was crowned king 26 months before his death at the Battle of Bosworth, started eating a richer diet associated with his change in status. …

The team analysed the isotopes found in three locations of King Richard III's skeleton: his teeth, his femur, and his rib. Each showed elements related to geographical location, pollution, and diet: strontium, nitrogen, oxygen, carbon, and lead. As teeth and bones continue to change and develop throughout life, the team was able to map specific elements to locations and time frames.

According to his teeth, Richard III had moved away from Fotheringhay Castle in Northampshire by the time he was seven, to an area of higher rainfall, older rocks and a different diet to what was available in his birthplace.

According to his femur — which shows an average of the last 15 years before death — Richard moved back to England's east sometime in his adolescence or young adulthood, and his diet changed to match that of the high aristocracy.

It is his rib that shows his later life. Typically, the ribs renew themselves quickly, so it only represents the last two to five years of life. It was in this period that Richard III's diet changed the most — although the differences between femur and rib could indicate a relocation, Richard III did not move away from England's east.

The elements found in his rib suggests an increase in his diet of freshwater fish and birds — such as swan, crane, heron, and egret — which were popular choices for royal banquets. It also suggests that he was drinking more wine. Both these changes reinforce that food and drink — and, in particular, types of food and drink — were very important indicators of social status in England in the Middle Ages.
————————–
Multi-isotope analysis demonstrates significant lifestyle changes in King Richard III
Hat tip to Karen L. Myers.