23 Oct 2018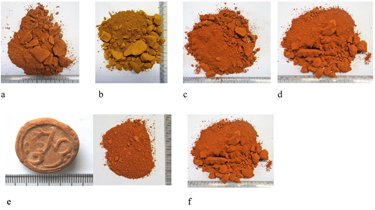 Samples of miltos, including a sixteenth century Ottoman example (e), and a control sample of yellow oxide (b).
Andrew Masterson, in Cosmos magazine, reports that modern researchers are attempting to pin down the exact identity of an intriguing Roman mineral.
From ancient Greek and Roman source texts it is possible to conclude that in the classical world a mineral, a powder known as miltos, was something of a wonder substance.

Miltos – referred to in the works of writers such as Theophrastus, Dioscorides and Pliny – was red, fine-grained, and made up mostly of iron-oxide.

By the time Theophrastus, a Greek philosopher and proto-botanist, wrote about it in the third century BCE, it was already a mineral validated by antiquity. Its use is attested to in Mycenaean clay tablets, inscribed in the script known as Linear B and dating from the second millennium BCE.

The variety of applications for which it was used was broad indeed. According to a team of researchers writing in the Journal of Archaeological Science: Reports, it was used "as a pigment, as a cosmetic, in ship maintenance, agriculture and medicine". …

The ancient texts made it clear that miltos, unlike some other types of mineral, could be found, and mined, in only a few places in Graeco-Roman world – namely Kea, in the Cyclades, Lemnos in the northeast Aegean, and Cappadocia in Turkey. This specificity meant identifying the substance was simple: it was the red dusty stuff found at the mine sites, and easily matched, therefore, with older samples held in museums and galleries.