This week's major viral hit is the video below documenting how an average-looking, not-especially-sexily-dressed woman receives 100 instances of street harassment in the course of a ten-hour stroll through New York City.
————————————
My millennial Facebook friends from Yale circles were righteously a-buzz over this one yesterday. One girl after another testifying that she, too, was constantly harassed by men. It is all about power, they agreed. I offered the consolatory reflection that none of them will have this problem any longer after just a couple of decades. But the girls did not particularly appreciate hearing that one.
It was not very long, however, before the thoroughly-conditioned youngsters, just like Hannah Rosin at Slate, identified a highly problematic subtext in the Hollaback! video: "the video also unintentionally makes another point, that harassers are mostly black and Latino, and hanging out on the streets in midday in clothes that suggest they are not on their lunch break. As Roxane Gay tweeted, 'The racial politics of the video are f*cked up. Like, she didn't walk through any white neighborhoods?' "
Today's young people simply cannot tolerate viewing, hearing, or reading anything uncomplimentary to the groups they have been trained all their lives to regard as sacred. Their noses twitch, their hairs stand on end, their heads go up, and they reflexively cry: Racism!
Once the material is identified as racist, that is it. It is not only bad, it is ipso facto false, and must be dismissed out of hand. It doesn't matter if the questionable content is perfectly true. It is still false because it is wrong, cosmically, absolutely, utterly WRONG. In the minds of today's young, nothing is, nothing can possibly be so unutterably wrong as Racism. And Racism is not necessarily some kind of concrete theory of the characteristics and relative inherited inferiority of certain groups. Racism is merely saying anything whatsoever negative about certain groups.
————————————
The mandatory racial witch hunt having concluded, the Internet Community then turned its attention to poking fun at the Hollaback! Sexual Harassment video.
Funny or Die! gave us this (non-embeddable) 1:56 video of 10 Hours of Walking in NYC as a Man.
————————————
And Tumblrland responded with this: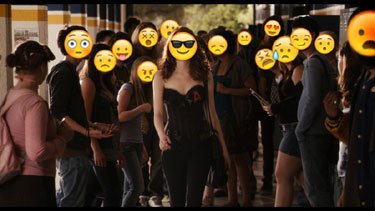 via Ratak Monodosico.