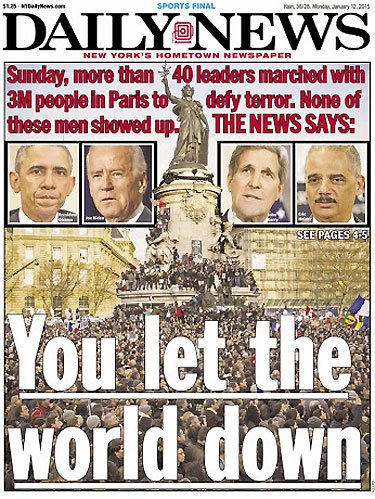 The New York Daily News and Gateway Pundit both comment upon just how conspicuous was the absence of major representatives of the Obama Administration at the Paris march against Islamic terrorism.
It was an international rally against terror.

Over 50 world leaders were in attendance.

But no Obama.

The Obama administration sent three representatives to Michael Brown's funeral in Ferguson, Missouri.

But only the Ambassador to France made the historic anti-terror march in Paris today.

Attorney General Eric Holder was in Paris but was not seen at the march.
But when you elect a president educated at a madrassa as a child, who thinks the ululations of the muezzin are a pretty sound, who has celebrated the end of the Muslim holy month of Ramadan with an Iftar dinner each year he has been in the White House, who told the United Nations in 2012 that "the future must not belong to those who slander the prophet of Islam," and who has worn since at least 1981 a ring with "There is no God but Allah" inscribed in Arabic, would you really expect him to fly to Paris to march in this parade?
——————————-
Twitter hashtag: ReasonsObamaMissedFranceRally