20 Jul 2015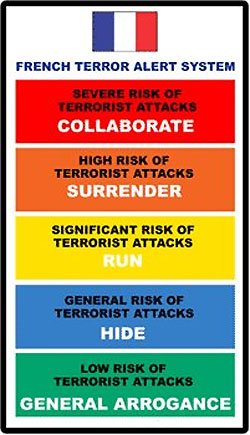 Deutsche Welle reports that the French Terror Alert Meter has reached the Surrender level.
Charlie Hebdo" editor Laurent Sourisseau has told "Stern" magazine he will no longer draw cartoons of the Muslim prophet Muhammad. Souriseau's statement comes six months after a deadly attack on the magazine's offices.

During an interview with the Hamburg-based news magazine "Stern," editor of the French weekly "Charlie Hebdo" said he would no longer draw comics of the Muslim prophet Muhammad.

"We have drawn Muhammad to defend the principle that one can draw whatever they want. It is a bit strange though: we are expected to exercise a freedom of expression that no one dares to," Sourisseau told "Stern."

The editor said that the magazine had done what it set out to do.

"We've done our job. We have defended the right to caricature," Sourisseau said. …

Sourisseau, who owns 40 percent of the company's shares, survived the deadly terrorist attack on the offices of "Charlie Hebdo" on January 7 by playing dead.
Read the whole thing.
Terrorism works. Je ne suis pas plus Charlie.