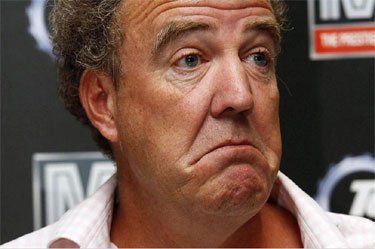 Well, it's happened. The wet ends at the BBC (who obviously think they are administrators at some American college) have declined to renew the contract of Jeremy Clarkson, the principal host of the BBC's hit automotive program Top Gear.
The BBC's Director General Tony Hall has confirmed Top Gear host Jeremy Clarkson's contract will not be renewed after a physical altercation with a producer. The controversial presenter was suspended on March 10, following a "fracas" with Oisin Tymon — believed to be over catering — in a Yorkshire hotel.

"It is with great regret that I have told Jeremy Clarkson today that the BBC will not be renewing his contract. It is not a decision I have taken lightly. I have done so only after a very careful consideration of the facts and after personally meeting both Jeremy and Oisin Tymon," said Hall in a statement.
Clarkson was fired because he got into a fracas with his producer on March 4th while filming in chilly Yorkshire. The Top Gear star became angry at learning that no hot meal was being provided, and socked producer Oisin Tymon in the mouth after calling him "a lazy Irish c*nt."
——————————
Also Deadline.com:
Following the announcement, Top Gear co-host James May, whose contract is also up at the end of the month, told reporters outside his home, "It's a tragedy. I'm sorry that what ought to have been a small incident, sorted out easily, turned into something big… I have only known for the past few minutes and if you'll excuse me, I very desperately have to write the eBay listing for my Ferrari."
——————————
Other co-host Richard Hammond tweeted: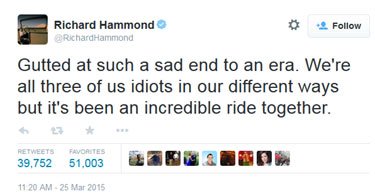 ——————————
The Stig had no comment.
——————————
The lazy Irish c*nt with the swollen lip and his reptilian lawyer were also heard from (Yahoo News):
"I respect Lord Hall's detailed findings and I am grateful to the BBC for their thorough and swift investigation into this very regrettable incident, against a background of intense media interest and speculation.

"I've worked on Top Gear for almost a decade, a programme I love.

"Over that time Jeremy and I had a positive and successful working relationship, making some landmark projects together. He is a unique talent and I am well aware that many will be sorry his involvement in the show should end in this way."

Statement from his lawyer Paul Daniels in full:

"This last month has been a nightmare for Oisin, his friends and his family. Through absolutely no fault of his own he found himself at the centre of a massive news story, but despite that he has conducted himself with dignity, restraint and balance.

"He now simply wishes to return to the job he loves at the BBC. He does not intend to make any further media comment and kindly asks that his privacy is respected.

"More generally, this is an important reminder that UK law protects all staff who face bullying, discrimination or violence at work, and all employers are required to protect their staff from such behaviour."
——————————
Obviously, British television resembles the American education system more than it does Hollywood. Its top priority is preventing bullying or discrimination against the inactive, the Hibernian, and those incapable of defending themselves. In America, the talent, I expect, tends to get hot meals and lots of sucking up from the help.
Personally, I think justice would be done by having the American Fox Network dash in and sign up all three British hosts for a new, and more luxurious, version of an automotive program, combining fast car testing, humor, and political satire.
And, every couple of months, Jeremy Clarkson should punch out some deserving left-wing commentator while his audience in the millions applauds.