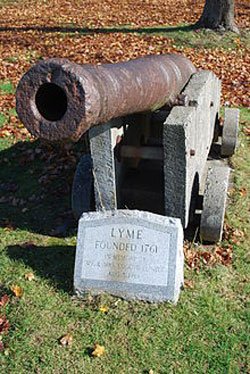 I may have found the actual cannon Mark is talking about.
Mark Steyn, back in 1999, was already lamenting the wussification of American July 4th celebrations.
[W]e're fighting not just a jurisdictional challenge but a vast cultural tide, determined to ensure that every activity should be 100 per cent guaranteed safe, even if that means it's no longer any fun.

Take, for example, that staple of every Fourth of July parade: cute little girl scouts waving to the crowds as their float passes by. The Swift Water Girl Scout Council, which oversees all girl scout troops in the state, has ruled that at this weekend's parades the girls will have to be seated and buckled in on their floats, to comply with New Hampshire's recent law requiring children to wear seat belts. "I can't say nobody would ever enforce it," said the Police Chief of Manchester, the state's largest city. "But they'd look awful stupid."

The girl scouts' director is unapologetic. "If the float stopped quickly and the children are not secured, the children could have an accident," said Jane Behlke.Since the scouting movement began there has been not a single girl scout parade float tragedy in New Hampshire, although one year in Merrimack Mr Peanut – a giant peanut – did lose his head (something to do with a low bridge). But nowadays the nuts who've lost their heads are the regulators. On Independence Day, where's the spirit of independence?

It wasn't always like this. Once the whole point of the Fourth of July was that it should be wild and dangerous. There's a cannon on my town common that the boys used to fill with powder, stones and sod, and then touch off. Unmounted, it bucketed around, flipping somersaults and very occasionally shattering windows.

In 1939 Sarah Holt and Minnie Linton, who ran the guest house, refused to donate any money for gunpowder. Come the big night the guys dragged the cannon down to their front door and fired at the house for hours on end. The game spinsters told the guests that the boys were just a little high-spirited.

Indeed, the only reason my town has a jailhouse is because of the Fourth of July in 1892, when some fellow drank too much cider, went nuts and started trashing the place. After which they built a two-cell jail in case it happened again. I believe it's the only jail in New England with wooden bars.

Recently, unable to find my 1995 tax bill, I asked to see the town's copy. The selectman said they had run out of space at the town offices, so they were storing them in the jail. "My God," I cried, aghast. "You've turned the town jail into a stationery cupboard!"

And there, in a nutshell, is the story of the modern western world: not enough wild independent spirit, just more paperwork.
The whole thing.