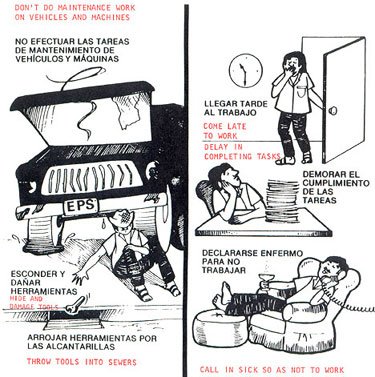 sample page from Spanish-language CIA Resistance Manual
Daniel Greenfield warns the accommodationists that compromise with the Left is impossible.
You can't find common ground with the left because it is an activist machine dedicated to destroy common ground, not only with the right, but even with its own allies on the left. Progress turns what was once progressive into what is reactionary. And what was reactionary into what is progressive.

These changes have the mad logic of a byzantine ideology behind them, but to the ordinary person their definition of progress seems entirely random.

A Socialist a century ago considered factories progressive instruments of the future and men in dresses a decadent reactionary behavior. Now factories are reactionary pollution machines of globalization and men in dresses are an oppressed victim group who have transcended biology with the power of their minds.

Republicans, conservatives, libertarians and other class enemies cannot possibly 'progress' enough to be acceptable to the left because it identifies progress with political conformity. A tolerant and progressive Republican is a contradiction in terms.

If he were truly tolerant and progressive, he wouldn't be a Republican.

The left will destroy the things you care about, because you care about them. It will destroy them because that gives them power over you. It will destroy them because these things stand in the way of its power. It will destroy them because a good deal of its militant activists need things to destroy and if they can't attack you, they'll turn on the left in a frenzy of ideologically incestuous purges.

The left's social justice program is really a wave of these purges which force their own people to hurry up and conform to whatever the Party dictated this week. Examples are made out of laggards on social media to encourage the rest to stop thinking and start marching in line. As Orwell knew well, these shifts select for mindless ideological zombies while silencing critical thinkers.

Yesterday we were against fighting Hitler. Today we're for it. Retroactively, we were always at war with Oceania. Retroactively, Bruce Jenner was always a woman. Retroactively, Obama was always right about Iraq, even when he appeared to be making the wrong decisions.

These changes are a test of reason. If you can reason, you fail. If you can Doublethink, you pass.

The constant shifts create their own version of future shock. They leave people baffled and uncertain. Society no longer seems to resemble what they knew, even though the real society of men and women has not really changed much, only the media's presentation of it has. But a beaten down mass of ordinary people now imagines that the country is filled with gay men and trannies. They accept that what they thought was common sense no longer applies and that it's someone else's country now.

And that is the prize that the left dearly wants. Surrender.

The left's media machine makes its madness seem cool even though behind all the agitating young things are a bunch of bitter old leftists. But the madness is a means, not an end. So is the facade of revolutionary cool to each shift.

The Futurists of Russia vowed to heave the past "overboard from the steamship of modernity". But when the Revolution came, the classics came back into the libraries and the Futurists were forced to stop drawing triangles and make their art conform to the conventional structure of a totalitarian state. The time of change had ended. Once the left was in power, the future became a lot like the past.

You can't accommodate the left on social issues. You can't accommodate it on fiscal issues. You can't do it. Period.

The left exists to destroy you. It does not seek to co-exist with you. Its existence would lose all meaning. Any common ground will be used to temporarily achieve a goal before the useful idiots are kicked to the curb and denounced as bigots who are holding back progress.

The purpose of power is power. The left is not seeking to achieve a set of policy goals before kicking back and having a beer. The policy goals are means of destroying societies, nations and peoples before taking over. If you allow it a policy goal, it will ram that goal down your throat. It will implement it as abusively as it can possibly can before it moves on to the next battle.

It's not about gay marriage. It's not about cakes. It's about power.