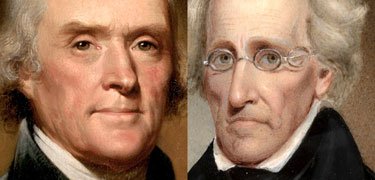 It was widely predicted that historical purging would proceed farther when recently a nation-wide campaign of execration broke out targeting the Confederate flag.
The Connecticut Post confirms the accuracy of those predictions, reporting that:
Thomas Jefferson and Andrew Jackson are history in Connecticut.

Under pressure from the NAACP, the state Democratic Party will scrub the names of the two presidents from its annual fundraising dinner because of their ties to slavery.

Party leaders voted unanimously Wednesday night in Hartford to rename the Jefferson Jackson Bailey dinner in the aftermath of last month's fatal shooting of nine worshipers at a historic black church in Charleston, S.C.

The decision is believed to be unprecedented and could prompt Democrats in other states with similarly named events to follow suit.

"I see it as the right thing to do," Nick Balletto, the party's first-year chairman, told Hearst Connecticut Media on Wednesday night.

"I wasn't looking to be a trailblazer or set off a trend that's going to affect the rest of the country. Hopefully, they'll follow suit when they see it's the right thing to do."
Democrat Party annual dinners nationally have long been named the Jefferson and Jackson Dinner, since Thomas Jefferson and Andrew Jackson are, historically speaking, indisputably the two greatest presidents and the two greatest American leaders associated with that political party. Unless, of course, you are a contemporary subscriber to the Marxist "critical studies" approach to history. In which case, you recognize the democrat party's notoriously libertarian early icons stood for essentially everything you are against: particularly limited government and individual and states' rights. Worse yet, both were Southerners and thus slave owners. And General Jackson was notoriously unsympathetic to Native American Rights, defeating the Creek Indians in war and deporting the Cherokee to a designated Indian Territory which would one day become Oklahoma.
What do you do, if you are a radical left-wing democrat obliged to face the reality that your party's two greatest leaders were ultra-libertarians with little to no commitment to equality-at-any-cost? Obviously, you vote that history out of existence.