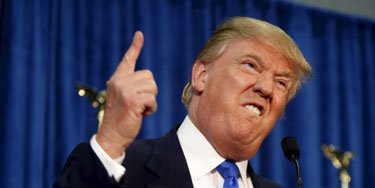 Donald Trump was always looked upon as a dubious presidential candidate, seemingly lacking in judgement, depth, and gravitas. But Trump decidedly surprised everyone by demonstrating unexpected abilities to debate effectively, to address issues, and to create a case for his candidacy based on opposition to conventional American politics, professional politicians, and political correctness.
He surged in the (very, very early) polls, by being entertaining, and –more importantly– by cleverly framing himself as the opponent of the same political establishment which much of America absolutely loathes and detests.
Serious conservative commentators and the GOP establishment were appalled, but people like me thought Trump was making some good points. He never really seemed all that likely to won the nomination, but in the meantime he did seem to be driving Republican politics in the right kind of anti-Washington, anti-business-as-usual direction. And, heck! if by some miracle, Trump actually won, he'd be bound to be better than Obama.
Well, lo and behold, all it took was the first official GOP debate on Fox News to do in the Trump candidacy. Curiously, Trump really actually did do just fine in the debate itself. But he began to self-destruct as soon as it was over.
Two excellent posts by Stuart Schneiderman:
8/7: On the Republican Debate:
The moderators are professional journalists. No one should have been surprised that they acquitted themselves as such. The leftist slander of Fox journalists as Republican toadies is so entrenched that people are surprised when they act professionally. No one should be.

Some conservative commentators criticized the Fox moderators for their tough questioning, but nearly all of the candidates were prepared to address them. The overall quality of the Republican candidates is exceptional; unfortunately, they are, for now, being overshadowed by Trump.

In New York Magazine Gabriel Sherman wrote about the conflict between Trump and Fox News:

Having spent the past six weeks rhetorically slashing at his Republican rivals, it makes perfect sense that Donald Trump would eventually run out of targets and find himself in a war with the party's media arm: Fox News. At the GOP primary debate Thursday night in Cleveland, Trump's on-stage clashes with the Fox moderators, and his post-debate complaints about the network's treatment of him, were among the most talked about storylines to emerge from the Quicken Loans Arena.

If your take-away from the debate is that the moderators were not very nice to you, you do not look like a winner. You look like a whiner.
Read the whole thing.
———————————–
8/8 Still Defending Trump?:
Megyn Kelly's first question in Thursday's debate ostensibly addressed Trump's insulting remarks about women. …

Kelly was asking whether Trump had the temperament to be president. Did he have the strength of character to be calm and collected under fire? Could he handle a crisis without flying off on a rant? Could he deal with foreign leaders when he could not impose his will on them?

The answer did not lie in his words, but in his behavior. Especially, in his continuing post-debate attacks on Megyn Kelly.

Now we know that the great Donald became undone when faced with big, bad Megyn Kelly. Keep in mind, as long as Trump is leading the Republican candidates in the polls, whatever he says reflects on the Republican Party.

Clearly, Kelly got to him. She got under his skin. She provoked an appalling rant, which did not subside after Trump got some rest.

Yesterday on CNN, Trump said this:

But, certainly, I don't have a lot of respect for Megyn Kelly, she's a lightweight. And she came out there reading her little script, and trying to be tough and be sharp. And when you meet her, you realize she's not very tough, and she's not very sharp. She's zippo.

Kelly might not have been very tough, but she was tough enough to threaten the Donald. If he cannot deal with someone who is a "zippo"–presumably, he was talking about the lighters– how could he deal with someone of substance. He was so threatened and so disarmed that he started lashing out, irrationally. I suspect that no woman has ever addressed him with such disrespect. As is his wont, Trump responded with a disgracefully indecent remark:

And you know, you can see there was blood coming out of her eyes, blood coming out of her wherever, but she was, in my opinion, she was off base.

When you can't answer the question, you attack the messenger. It is not a sign of toughness or of strength. It signals weakness. It shows that Trump can be easily manipulated. Those who think that Trump is a tower of strength should revise their opinions. Trump is more bluster than strength; more boasting than leadership. One should be able to tell the difference.
Read the whole thing.
———————————–
Ed Driscoll, at Instapundit, collects negative conclusions on Trump's potential presidential performance from conservatives.
[Roger Simon thinks foreign adversaries would easily roll The Donald:]

Here's how I would imagine they would handle Trump. They would love him to death, treat him like the king of the world, the genius at deal-making, ask him for advice on everything from golf courses to hospital maintenance, and if he got suspicious, love him even more, say great things about how rich he is, what a wonderful plane he has, ask for a tour, get pictures with him for People and Der Spiegel… then, after he feels like he's been just the perfect president and has settled everything, that's maybe six months, snatch the Baltic states (Russia), explode your bomb (Iran), move in on practically everything west of Honolulu (China) and look the other way when ISIS blows up three shopping malls in Dallas.

What would Donald do about it? Say "You're fired"? Brag about his money? I'm not optimistic.

And when it comes to domestic matters, as libertarian blogger "Popehat" tweets, "Consider the way Trump and his supporters speak of perceived enemies. Now, give them control of the IRS and Justice Department."

So a looming disaster on public policy, a thin-skinned vindictive man with control over the IRS and the Justice Department, a core base of voters who view him in a near messianic light, a Fox News hater, and a man who has made common cause over the years with Bill, Hillary, Harry Reid, and the late Ted Kennedy. Trump really is the Bizarro World version of Obama.
———————————–
Krauthammer: "He's running as a tough guy. …[He was] going to stare down Putin, and now he says that he was treated not nicely by three Fox News anchors."