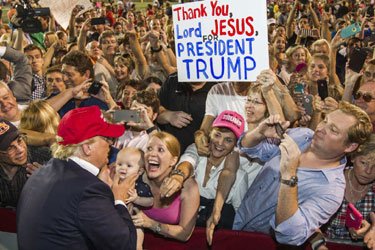 Establishmentarian James Lileks finds himself tempted to remove his JEB BUSH button and start rooting for The Donald.
The Donald, laid out the skyscraper's blueprints, and said, "We've got a problem. The geological surveys were wrong, and there's just not enough bedrock to support 95 stories. We'll have to scale it back."

I don't doubt that at that moment, Trump narrows his eyes, lets the tension build, keeps his tongue as the the clock on the wall ticks — a beautiful, 19th-century clock made by one of Europe's finest clock makers, finest pearl on the face and ivory on the sweep hand. Not that he supports killing elephants; he's a big fan of elephants, he had a statue of one outside the Atlantic City casino, which, by the way, made more money its first year than any casino in history, the people loved it . . . Anyway, the moment builds, the clock ticks, sweat starts on the brows of the engineers.

Trump nods. Then he speaks. "Find a way."

"You mean — double the footings and cross-brace the structure?"

"If that's what it takes."

Quick looks among the engineers: The legends are true. Another clears his throat: "We need an inertial dampening mechanism at the top of the structure, or it will sway in high winds. Right now, the design just has penthouses."

Trump nods. "The views will be tremendous."

"But people will be sickened by the motion of the structure."

"The problem with America today is too many people are throwing up. I can change that."

A sigh of relief around the table.

I imagine that's how it goes, right? That's why I know this man is such a threat. He gets things done. I look at the rest of the candidates, and I'm pretty sure not one of them ever went on-site with a hard-hat and solved the problem of weak water pressure on the 82nd floor. If Donald Trump can built a 95-story skyscraper and have a heckler ejected in a news conference, of course he can build a wall and find every illegal and put them on a bus to wherever. He'd do it by decree, right? I am so waiting for someone to do the decree thing for stuff I secretly want.

He'll ride a horse up Pennsylvania Avenue on Inauguration Day, right? Say he'll ride a horse and I am off Jeb's team in a second.
Hat tip to Robert Laird.