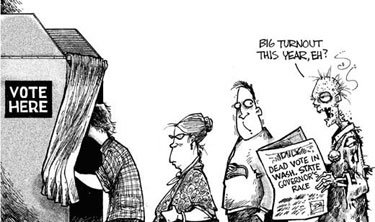 It requires a private foundation in this country to do things public officials cannot be trusted to do. PILF news release:
The Public Interest Legal Foundation (PILF) has put 141 counties on notice across the United States that they have more registered voters than people alive. PILF has sent 141 statutory notice letters to county election officials in 21 states. The letters are a prerequisite to bringing a lawsuit against those counties under Section 8 of the federal National Voter Registration Act (NVRA).

The letters inform the target counties that it appears they are violating the NVRA because they are not properly maintaining the voter rolls. The NVRA, (also known as Motor Voter) requires state and local election officials to properly maintain voter rolls and ensure that only eligible voters are registered to vote. Having more registrants than eligible citizens alive indicates that election officials have failed to properly maintain voter rolls.

States with counties which received a notice letter are (# of counties): Michigan (24), Kentucky (18), Illinois (17), Indiana (11), Alabama (10), Colorado (10), Texas (9), Nebraska (7), New Mexico (5), South Dakota (5), Kansas (4), Mississippi (4), Louisiana (3), West Virginia (3), Georgia (2), Iowa (2), Montana (2), North Carolina (2), Arizona, Missouri, New York (1 each). Federally produced data show the letter recipients have more registrants than living eligible citizens alive.