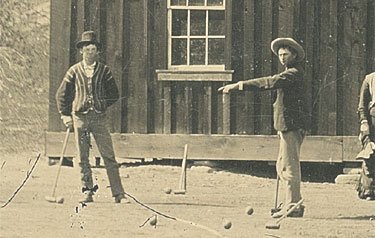 Young man identified as Billy the Kid (on left) playing croquet with other regulators, Summer 1878.
A rare coin dealer in California has concluded that a grainy image of legendary gunman Billy the Kid playing croquet is the real thing and could be worth as much as $5 million.

That is not bad for a photo purchased by Randy Guijarro of Freemont, Calif. for $2 as a part of a miscellaneous lot at a Fresno junk shop in 2010… The company is negotiating a private sale of the photo. …

The 4×5-inch tintype – which depicts Billy the Kid and several members of his gang, The Regulators, relaxing in the summer of 1878 – will be the subject of a two-hour documentary airing Sunday on the National Geographic Channel.

Taken just one month after the tumultuous Lincoln County War came to an end, it offers a rare window into the lives of these gunmen. Rather than a threatening outlaw, Billy the Kid seems to be enjoying some downtime following… a wedding.
Kagin's web-site.