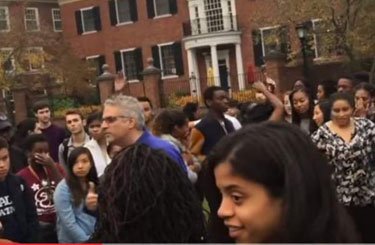 Fifteen minutes of fame have been awarded to Yale's own "Shrieking Girl", Silliman senior and Master's aide Jerelyn Luther, who hails from nearby affluent, suburban Fairfield, Connecticut.
Daily Caller spilled the beans.
Heavy.com (somewhat repetitively) piles on.
I was amused myself at just how rapidly Yale loudest tricoteuses, editorialist Jencey Paz of the Yale Herald, "who did not want to debate, but only wanted to talk about her pain," and Jerelyn Luther, who told Silliman Master Christakis to "shut up" and demanded that he resign, when they found that their publicly-taken positions had become widely-discussed news items, removed their presences on the web, retreated from the national stage, and went instantly into hiding. So much for the courage of their convictions.
It's no accident that people wedded to fabulously-self-indulgent, paranoid, and hysterical posturing feel that they need "safe spaces" where no analysis of or dissent from their nonsense is permitted in order to spout off.
I had predicted to my wife that any young lady so obviously extraordinarily spoiled and self-infatuated, with no manners and no respect for her elders and university officials, would be found inevitably to have come, not The Hood, but from some especially comfortable enclave of upper middle class privilege.