28 May 2016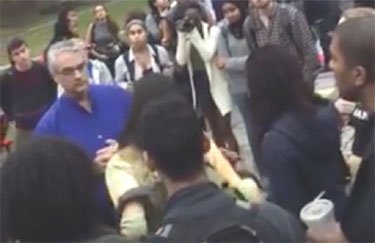 The Shrieking Student confronting Master Christakis last November.
We saw this week the sad denouement of last Fall's Great Halloween Costume Controversy at Yale.
The very liberal Master of Silliman College and his equally liberal wife and co-Master, were publicly denounced and vilified early last November for Mrs. Christakis's daring to question the dictate on the vital issues of Halloween costuming laid down by Yale's "Intercultural Affairs Committee," a 13-member group of administrators from the Chaplain's Office, campus cultural centers, and other campus organization. That committee urged students to be careful of the cultural implications of their Halloween costumes and to avoid trespassing upon the tender sensitivities of officially-recognized victim groups via the use of feathered headdresses, turbans, "war paint," or blackface, all cases of inappropriate "cultural appropriation and/or misrepresentation."
Co-Master Erika Christakis responded two days later, the night before Halloween with her own email, based on her professional expertise as a child development specialist, questioning the appropriateness of the university policing students' choices of Halloween costumes:
I don't wish to trivialize genuine concerns about cultural and personal representation, and other challenges to our lived experience in a plural community. I know that many decent people have proposed guidelines on Halloween costumes from a spirit of avoiding hurt and offense. I laud those goals, in theory, as most of us do. But in practice, I wonder if we should reflect more transparently, as a community, on the consequences of an institutional (which is to say: bureaucratic and administrative) exercise of implied control over college students.
Christakis raised free speech and expression issues and then inquired philosophically:
Is there no room anymore for a child or young person to be a little bit obnoxious… a little bit inappropriate or provocative or, yes, offensive? American universities were once a safe space not only for maturation but also for a certain regressive, or even transgressive, experience; increasingly, it seems, they have become places of censure and prohibition.
Demonstrations ensued, an open letter denouncing Erika Christakis's email was signed by hundreds and hundreds of students and faculty, Nicholas Christakis was confronted and abused by "the shrieking student," Yale Dean Holloway was confronted and scolded by a crowd of students of color, demonstrators demanded the Yale Administration apologize and meet a long laundry list of demands, including the dismissal of both Christakises.
The University declined to fire the Christakises, and affirmed that they continued to have its support. But, Erika Christakis quit teaching at Yale last December, and her husband Nicholas announced soon thereafter that he would be taking a sabbatical for the Spring Semester.
On Wednesday this week, the Yale Daily News reported that, all that solid Administration support notwithstanding, what do you know? the Christakises will never be coming back.
Months after a controversial email helped spur sustained student protests last fall, Nicholas and Erika Christakis will step down as head and associate head of Silliman College, effective this July.

In a Wednesday afternoon email to the Silliman community, Nicholas Christakis announced that he submitted his resignation to University President Peter Salovey last week. The couple drew national attention last fall when a Halloween weekend email from Erika Christakis defending students' rights to wear culturally appropriative costumes sparked outrage on campus.

At the time, many students and alumni called for the couple to resign their roles at the helm of Silliman College, arguing that the two could no longer serve as effective leaders of a college community designed to create a home for undergraduates. But others said their removal would constitute a serious blow to free speech on college campuses.

In his resignation announcement, Nicholas Christakis emphasized the importance of open intellectual debate, a stance which caused controversy last fall as many students argued that the emphasis on free speech came at the cost of student wellbeing and safety.

"We have great respect for every member of our community, friend and critic alike," Nicholas Christakis wrote. "We remain hopeful that students at Yale can express themselves and engage complex ideas within an intellectually plural community. But we feel it is time to return full-time to our respective fields of public health and early childhood education."
The Foundation for Individual Rights in Education noted that Yale's fidelity to its own supposed ironclad commitment to Free Speech seems to be less than ironclad in actual practice.
Now both professors have stepped down. The "glowing promises" … in Yale's famed Woodward Report, which assures students and faculty members that they are free to "think the unthinkable, discuss the unmentionable, and challenge the unchallengeable" and states that "[a]mong the College's most cherished principles is its commitment to freedom of expression."

With the Christakises' resignation, it's clear that Yale's ability to live up to its public promise to provide an environment that fosters free and robust debate has been called into sharp question.
———————————————————
It is probably some Yale irate alumn who has singled out the shrieking student on Facebook for revenge.