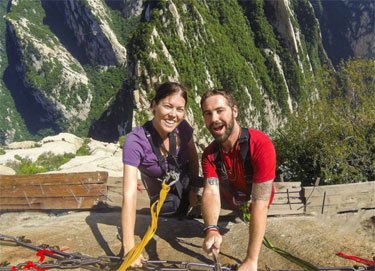 China turned us into bad people. The pushing, the shoving, the pollution, the spitting, the lack of respect toward the environment and their fellow human beings, the oily food, the wasteful attitude that is now ingrained in their psyche, we could go on. This is not to say we didn't have great experiences and meet wonderful people, because we definitely did. But those moments were far less common for us. We hate being negative, and it may sound arrogant or pathetic, but that is the truth.

We would snap at each other over small things, and these minor arguments would turn into all-day affairs. Alesha would get angry at me over trivial matters, and I would retaliate. In the end I stopped being the caring partner that I should be. I neglected Alesha's feelings and she would attack me for neglecting her. I continued to neglect her because I couldn't stand being attacked. It was a vicious cycle.

Alesha started to resent travel, and I grew numb to it. Nothing excited us anymore. Just like you can lose your passion for a hobby when it becomes a job, we're starting to become jaded with travel.

We hadn't done proper exercise for longer than we could remember," Salem wrote, "ate a lot of dodgy foods that had little nutritional value and put on weight. This just made us feel even more down. Alesha has always said that if your stomach is happy, you are happy. Well after the diet we experienced across China, Mongolia and Central Asia, our stomachs definitely weren't happy."

"At some point we sat down and realized that the best thing for us was to go our separate ways for a while, to give ourselves a break from each other."
Hat tip to Ann Althouse.