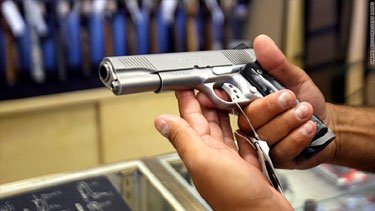 At Ricochet, Son of Spengler notes that the more Obama and other democrats attack private ownership of firearms the more gun sales occur and stocks of firearm manufacturers shoot upward.
[This effect] is driven by a fundamental paradox of gun control: In their push to restrict access to firearms, the president and his allies are unintentionally highlighting the government's failure to maintain public safety. …

Ironically, the more the White House insists we are unsafe, the more apparent it becomes that we are exposed. If our leaders are unable (or unwilling) to distinguish the obvious sources of recent gun violence — terrorism, mental illness, gang violence, inner-city lawlessness — then there is no way the government can effectively protect us from those threats. Indeed, the White House's obsession with guns raises legitimate questions about governmental competence. A government distracted by red herrings will be incapable of fulfilling its mission to protect its citizenry from real threats.

So, as our government falls down on the job, the mature and rational course of action is to take responsibility for one's own self-protection. In no small part, that means buying a gun and learning how to use it.