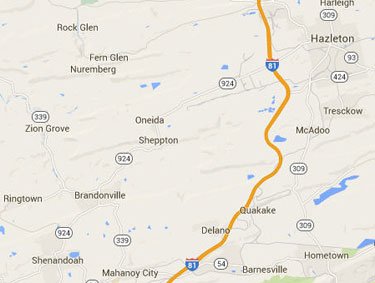 I grew up in Shenandoah, so I know McAdoo.
I came across a classic Coal Region survival story yesterday, out of McAdoo, just south of Hazleton.
WNEP:
Justin Smith, 26, of McAdoo is what doctors are calling a medical miracle.

He was found nearly frozen to death on the side of the road about one year ago.

On Monday, he got the opportunity to thank everyone who helped him survive after spending nearly 12 hours out in the cold.

"I got done with work that day and we were going to the fire hall to hang out, having a couple drinks with some people, and I wanted to go home around 10 o'clock," said Smith.

On that cold night last February, Justin Smith walked out of the Treskow fire hall, but never made it home.

His father Don found him the next day on the side of Treskow Road.

"I looked over and there was Justin laying there and he was laying face up there like this," said Don Smith. " He was blue. His face he was lifeless. I checked for a pulse. I checked for a heartbeat. There was nothing."

"The coroner was on scene. The state police were on scene. They were doing essentially a death investigation," said Dr. Gerald Coleman.

But Dr. Coleman, an emergency department physician at Lehigh Valley Hospital in Hazleton, refused to pronounce Justin dead when his body was that cold.

"Our mind is supposed to run the show, not our hearts because if your heart runs the show, you can run into some problems. I just kind of threw that to the wind and said, 'No, not today,'" said Dr. Coleman.

A team in Hazleton performed CPR on Justin for two hours.

He was then transferred to Lehigh Valley Hospital Cedar Crest near Allentown where doctors used what's called an ECMO machine to warm up Justin's blood.

Doctors say flying Justin to Lehigh Valley's Hospital near Allentown was a miracle in itself. They had to beat a snowstorm and do compressions on him the entire way.

"We knew we needed a big, big miracle," Justin's mom Sissy Smith said.

"When you have very low temperature, it can preserve the brain and other organ functions," said Dr. James Wu of the Lehigh Valley Health Network.

Doctors said as Justin warmed up, his heart started beating.

Weeks went by before he actually woke up and realized where he was.

"It's like I woke up from a dream, but it wasn't a dream," Justin said.

"When you look at the science of what happened to Justin, it was really hard to imagine that anyone on Earth could survive this," said Dr. John Castaldo of the Lehigh Valley Health Network.

Now he's back to his family he loves, golf, and school.

Justin lost his pinkies and all of his toes, but doctors call him a medical miracle.