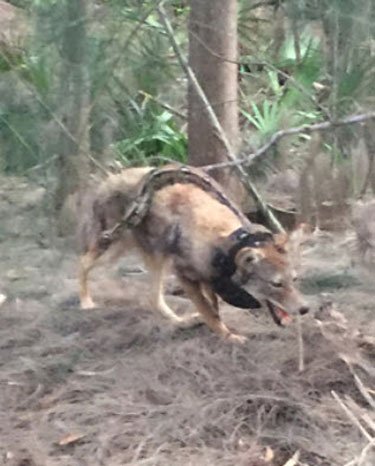 A South Florida man and his family came across a shocking sight while taking a break at a rest stop on Alligator Alley.

Will James was driving to Naples on Tuesday with his wife and daughter when they stopped at the rest area at Mile Marker 62 in the Big Cypress National Preserve.

James, an experienced hiker, said he heard snarling and barking just off the trail near the rest area and walked back to find what was making the odd noises.

That's when they discovered a coyote in distress with a boa constrictor wrapped around its neck and body.

James says the coyote was kicking and biting at the snake before the unwelcome slithery friend finally let go, but not before biting the coyote on its hind leg.

The exhausted coyote was able to walk away with a noticeable limp.
Though I'm not normally on any coyote's side, I think the photographer ought to have intervened out of mammalian solidarity against that snake.