But they will certainly speak volumes, and what a display for a Texas oilman's wall this collection of rare and rusty firearms would make!
James D. Julia Auction, Quality Firearms, March 14, 2016, Lot 1160
WONDERFUL COLLECTION OF TEXAS RELIC FIREARMS FOUND IN TEXAS AND ASSEMBLED OVER MANY YEARS BY BILL STEWART OF SONORA, TEXAS FEATURING A 9″ FLAT CYLINDER NO. 5 TEXAS PATERSON REVOLVER.

SN NSN. Cal. 34. 1) Texas Paterson revolver with 9″ bbl and flat cylinder. This revolver was found by a young boy near the Burgess Spring Waterhole on the outskirts of Alpine, Texas in 1962. This relic was displayed at the T.G.C.A. "Parade of Texas Patersons" in November of 1994 and also in early 2000's at the T.G.C.A. show in San Antonio, Texas. The revolver has 3 loaded chambers. This revolver is accompanied by a letter from Bill Stewart telling the story of this wonderful relic and states that he believes this relic is one of the orig group purchased by Republic of Texas and issued to Texas Rangers. Also included is a letter form Victor Friedrichs to Mr. Stewart discussing this gun. Also included is a handwritten note from Paterson experts Linda Lassister and Steve Evans stating that they would "someday like to have a "Rusty" Paterson of their own". 2) Colt model 1839 Paterson carbine of type ordered by the Republic of Texas. 3) Cal. 44 revolver with flat-sided frame that appears to be a Dance. 4) Large-framed Dragoon revolver with rnd trigger guard and small loading cut. Appears to be Tucker, Clark, and Sherard. 5) Colt model 1848 "Baby Dragoon" with rammer. SN 7042 on backstrap and trigger guard. 3 cylinders capped and loaded. 6) Colt model 1860 Army Richard/Mason conversion no. 147249 on trigger guard. 7) Model 1855 Colt receiver and cylinder in 52 Cal.. Accompanied by orig cartridge for this model. 8) Colt model 1855 Root rifle. 9) Whitney-Kennedy lever action rifle. 10) Bbls from double-gauge percussion. PROVENANCE: The Estate of G. W. "Bill" Stewart of Sonora, Texas. CONDITION: 1) As found. 3 loaded chambers. Grips and straps are missing. 2) Bbl, cylinder and loading lever present. Buttstock is missing. 3) Bbl, cylinder and frame present. Grips and straps are missing. 4) Bbl, cylinder, frame and brass straps. Grips missing. 5) Bbl, cylinder, frame, backstrap and trigger guard. Grips are gone. SN visible on trigger guard and backstrap. 6) Bbl, cylinder, frame, and trigger guard. Hammer, backstrap and grips are gone. SN and some silver visible on trigger guard. 7) Frame, cylinder, and arbor. Clear Colt marking. Cleaned with naval jelly. 8) Bbl, frame, and cylinder. Stocks are gone. Frame cracked in front of cylinder. 9) Bbl, magazine, receiver, lever and hammer. Stocks are gone. Silver blade front sight on bbl. 10) Bbls only. A very unique opportunity to obtain a wonderful collection of relics that were all found in Texas by an old time collector featuring an award winning no. 5 Paterson revolver and a model 1839 Paterson carbine. 49973-162, 49973-159, 49973-160, 49973-161, 49973-163, 49973-250, 49973-251, 49973-252, 49973-389, 49973-390, TEP (10,000-20,000)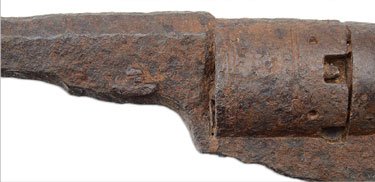 9″ Barrel Texas Patterson Revolver, one of original group purchased by the Republic of Texas and issued to Texas Rangers for use against the Comanches in the 1830s.