28 Jul 2021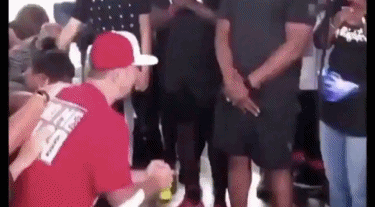 Last year, in Houston, several white liberals knelt and asked forgiveness of a group of blacks.
Tyler O'Neil, at PJM, has the best outrageous Leftism story of the week.
[P]arents in Dallas just got a wake-up call. The local Black Lives Matter group Dallas Justice Now launched a new campaign, urging white parents in wealthy Highland Park to sign a pledge to keep their children from applying to America's top colleges — in the name of "equity." The organization's letter to parents lays the guilt on thick.

"We are writing to you because we understand you are white and live within the Highland Park Independent School District and thus benefit from the enormous privileges taken at the expense of communities of color," Dallas Justice Now writes to parents in the area. "You live in the whitest and wealthiest neighborhood in Dallas. Whether you know it or not, you earned or inherited your money through oppressing people of color."

"However, it is also our understanding that you are a Democrat and supporter of the Black Lives Matter movement which makes you one of our white allies and puts you in a position to help correct these cruel injustices," the letter continues. "We need you to step up and back up your words with action and truly sacrifice to make our segregated city more just."…

"We are asking you to pledge that your children will not apply or attend any Ivy League School or US News & World Report Top 50 School. If you do not have children under 18 then we ask you to pledge to hold your white privileged friends, family, and neighbors with children to this standard," the letter demands. "These schools have afforded white families privilege for generations. Having your children attend these schools takes away spaces from students of color who really need the job opportunities, education and influence that these schools provide."

"We know that this sounds like a tough commitment to make. But it is truly disheartening to see wealthy white folks sending charitable donations, posting #BlackLivesMatter on social media, or putting up yard signs as if to say that minimal effort is all they are prepared to do in the fight for racial justice," the letter adds.

The pledge reads as follows:

As a white person with privilege both from my whiteness and my neighborhood I recognize the need to make sacrifices for the purpose of correcting hundreds of years of murder, slavery, discrimination, and lack of educational and economic opportunities perpetrated upon people of color. I understand that access to top schools is a key component in economic and social advancement. Therefore, I commit that my children will not apply to or attend any Ivy League School or US News & World Report Top 50 School so that position at that school is available for people of color to help correct historical wrongs. If I do not have children under 18 then I will commit to encouraging my white privileged friends, neighbors, and family members with children to sign the pledge and holding them accountable until they do so.
———————————–
Update: This story has been denounced as a spoof by the liberal Dallas Observer. They are suspicious because efforts to locate "Dallas Justice" and its principals were not successful.
I think we'll know more tomorrow. The Observer could be right, but the story is not really that implausible. Equally outrageous demands and proposals are advanced all the time these days.