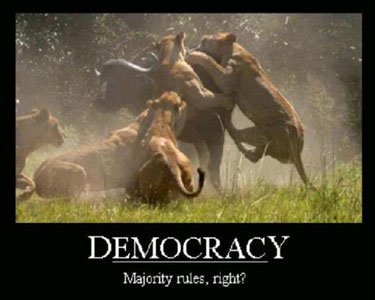 Bloody Shovel explains the biological case against democracy.
Traditional power arrangements can be stupid and ineffective. They are by definition nepotistic, and often nothing gets done. But they have the important function of impeding the access of evil sociopaths to the highest reaches of power. You really don't want those people up there; all they do is suck the coffers dry, and hurt everyone they fancy in order to satisfy their greed. Democracy, by opening the levers of power to free competition, all but guarantees that evil sociopaths will end up ruling everything. People who have no issue with giving sick men access to girl's toilets, or bringing hostile barbarians to rape the women of their country. Monarchies can have a bad king. But Democracies always have a bad king.
Hat tip to Vanderleun.