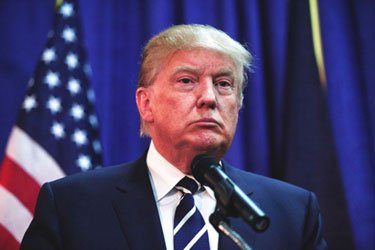 Mona Charen explains that the problem with the Trump candidacy is Donald Trump's character. His character is bad, and his behavior is off-the-charts not normal.
Donald Trump is not emotionally healthy. No normal man sits up late at night tweeting dozens of insults about Megyn Kelly, or skips a key debate because he's nursing a grudge against her for asking perfectly ordinary questions, or continues to obsess about her weeks and months after the fact.

A normal, well-adjusted man does not go to great lengths to prove to a random journalist that he has normal sized fingers. Some may think it was Rubio who introduced the "small hands" business, but it actually dates back to an encounter Trump had 25 years ago with journalist Graydon Carter. Carter had referred to Trump as a "stubby fingered vulgarian" in Spy magazine. Trump could not let it go. Carter told Vanity Fair in 2015:

To this day, I receive the occasional envelope from Trump. There is always a photo of him — generally a tear sheet from a magazine. On all of them he has circled his hand in gold Sharpie in a valiant effort to highlight the length of his fingers . . . The most recent offering arrived earlier this year, before his decision to go after the Republican presidential nomination. Like the other packages, this one included a circled hand and the words, also written in gold Sharpie: "See, not so short!"

Notice he didn't contest the "vulgarian" part of the insult. And remember that at a presidential debate, for God's sake, Trump brought it up himself and assured the world that "there is no problem, believe me." I don't believe him, and I'm not talking about his genitals.

There is an enormous problem. Trump seems to suffer from narcissistic personality disorder, an insecurity so consuming and crippling that he has devoted his life to self-aggrandizement. This is far beyond the puffery that most salesmen indulge to some degree. It strays well into the bizarre. Asked whom he consults on foreign policy Trump said "I'm speaking with myself, number one, because I have a very good brain and I've said a lot of things." What grown man says things like that and continues to be taken seriously? How can he be leading the race for the Republican nomination?
Read the whole thing.