1886 Winchester, Serial Number 1, presented to Captain Henry Ware Lawton for capturing Gerinimo.
The world's most expensive rifle–setting the record at auction for $1.265 million–is a lever-action Winchester, with a blued and case-hardened finish, engraved only with "Albee to Lawton." It's an unadorned Model 1886, serial number 1, given to Captain Henry Ware Lawton to celebrate his successful campaign against Geronimo, the fierce leader of the Chiricahua Apache tribe, a key event leading to the end of the brutal Apache Wars.

The rifle was auctioned as part of a lot of Lawton's belongings including an engraved gold-plated C. Howard & Co. pocket watch and matching engraved gold chain, also in recognition of his work hunting down Geronimo. Lawton received prominent awards and medals during his career, including the Medal of Honor, rising to the rank of Major General before dying in battle during the Philippine–American War.
————————————
Rock Island Auctions, 29 April- 1 May 2016, Lot 1025
————————————-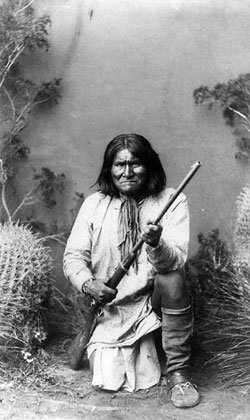 Geronimo