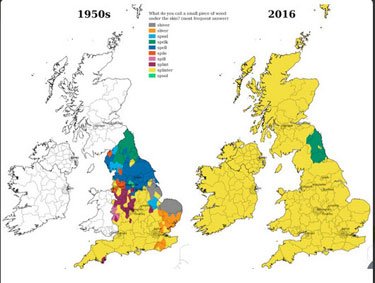 University of Cambridge Research:
A new app which tries to guess your regional accent based on your pronunciation of 26 words and colloquialisms will help Cambridge academics track the movement and changes to English dialects in the modern era.

Along with colleagues from the universities of Zurich and Bern, Cambridge's Adrian Leemann has developed the free app English Dialects (available on iOS and Android) which asks you to choose your pronunciation of 26 different words before guessing where in England you're from.

The app, officially launched today on the App Store and Google Play, also encourages you to make your own recordings in order to help researchers determine how dialects have changed over the past 60 years. The English language app follows the team's hugely successful apps for German-speaking Europe which accumulated more than one million hits in four days on Germany's Der Spiegel website, and more than 80,000 downloads of the app by German speakers in Switzerland.

"We want to document how English dialects have changed, spread or levelled out," said Dr Leemann, a researcher at Cambridge's Department of Theoretical and Applied Linguistics. "The first large-scale documentation of English dialects dates back 60-70 years, when researchers were sent out into the field – sometimes literally – to record the public. It was called the 'Survey of English Dialects'. In 313 localities across England, they documented accents and dialects over a decade, mainly of farm labourers."

The researchers used this historical material for the dialect guessing app, which allows them to track how dialects have evolved into the 21st century.

"We hope that people in their tens of thousands will download the app and let us know their results – which means our future attempts at mapping dialect and language change should be much more precise," added Leemann. "Users can also interact with us by recording their own dialect terms and this will let us see how the English language is evolving and moving from place to place."

The app asks users how they pronounce certain words or which dialect term they most associate with commonly-used expressions; then produces a heat map for the likely location of your dialect based on your answers.

For example, the app asks how you might say the word 'last' or 'shelf', giving you various pronunciations to listen to before choosing which one most closely matches your own. Likewise, it asks questions such as: 'A small piece of wood stuck under the skin is a…' then gives answers including: spool, spile, speel, spell, spelk, shiver, spill, sliver, splinter or splint. The app then allows you to view which areas of the country use which variations at the end of the quiz.

It also asks the endlessly contentious English question of whether 'scone' rhymes with 'gone' or 'cone'.
Read the whole thing.