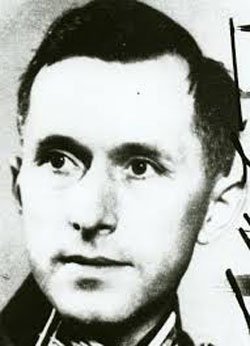 Ernst Jünger (1895-1998)
Karl Marlantes (Y '67), who served as an officer in the Marine Corps, received the Navy Cross, and wrote perhaps the best Vietnam War novel, is pretty much the ideal choice to write the introduction for the new Penguin Classics edition of Ernst Jünger's WWI memoir Storm of Steel.
[L]ike Jünger, who observed the stream of colored flares, I can appreciate that, borrowing a phrase from Yeats, there is a terrible beauty about war, even though I'm not a born warrior. I remember watching enemy tracers seeming to float into the night sky over Laos, seeking to down one of our airplanes, in much the same way I'd watch fireworks. I remember even being enthralled, late in my tour when I'd been transferred to an air ob­server squadron, by green tracers flying by both windows of our OV-10 as we dived firing, head to head with an NVA antiaircraft gun. Jünger sees the beauty—it's everywhere in his memoir—and perhaps you will see it too. This doesn't need to change how you judge war; coral snakes and tsunamis are beautiful too.

Jünger writes about many things other than combat, but all take us into the trenches as he saw them. He writes about fear and panic. He writes about nature—about having to live outside, just like a wild animal, in all of nature's cruelty and beauty. He writes about the code of honor and manliness that engenders mutual respect be­tween soldiers on opposite sides of the battle, as when he encoun­tered a young British officer just before Christmas during a poignant temporary truce that unfortunately went bad:

We did, though, say much to one another that betokened an almost sportsmanlike admiration for the other, and I'm sure we should have liked to exchange mementoes.

At another point he writes:

Throughout the war, it was always my endeavour to view my opponent without animus, and to form an opinion of him as a man on the basis of the courage he showed.

And he writes about the understated and often gallows humor that goes hand in hand with the code of honor and manliness. I remember in Vietnam a kid waiting to be medevaced, gasping for air because he'd taken a bullet through one lung, saying, "You know, sir, it ruined my whole day." Jünger often uses such humor:

We suffered many casualties from the over-familiarity engendered by daily encounters with gunpowder. My dugout was somewhat changed as well . . . the British had fumigated it with a few hand-grenades. We were so abundantly graced with trench mortars . . .

In another scene, Jünger describes a fierce skirmish with Indi­an soldiers from the First Hariana Lancers:

With only twenty men we had seen off a detachment several times larger, and attacking us from more than one side, and in spite of the fact that we had orders to withdraw if we were outnumbered. It was precisely an engagement like this that I'd been dreaming of during the longueurs of positional warfare.

I'd have been dreaming of my high school girlfriends.

"These short expeditions," Jünger writes, "where a man takes his life in his hands, were a good means of testing our mettle and interrupting the monotony of trench life. There's nothing worse for a soldier than boredom." I would say homesickness, hunger, hypothermia, getting gassed, gangrene, and trench foot, not to mention getting killed or maimed, would all be worse than boredom. But Jünger was different.
Read the whole thing.