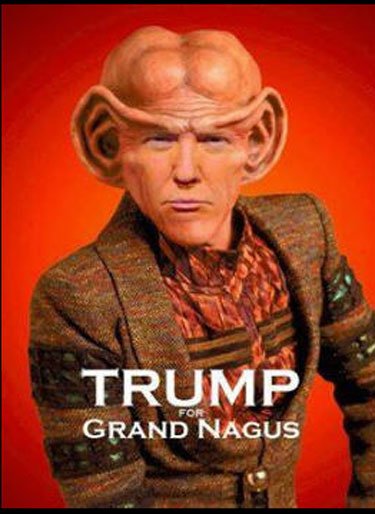 Donald Trump pledges to replace Constitution with the Ferengi Rules of Acquisition.

The United States Constitution will be modified to include the Ferengi Rules of Acquisition, according to a policy document leaked from the Donald Trump campaign.

The news emerged after it became clear Trump's campaign website would not allow supporters to cancel reoccurring donations, a move covered under Rule 239 as "Never be afraid to mislabel a product".

Trump, who believes he is running for the position of 'Grand Nagus' of the United States, has a personal motto of "A man is only worth the sum of his possessions", which is his favourite of the rules. …

Many supporters of Donald Trump already appear to be using at least the first three of the five stages of acquisition – infatuation, obsession, justification, appropriation and resale – to explain backing their candidate.
Read the whole thing.