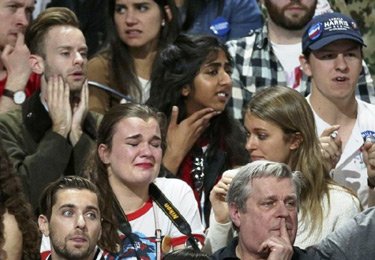 Roger Franklin has been deriving deep pleasure from looking on at the left's post-2016-election tantrum.
On yesterday's bus to New York two of my fellow passengers were very glum girls indeed. They were students most likely, sporting backpacks, Hillary buttons and matching pairs of red and puffy eyes. As we shuffled aboard, the taller laid her head on her friend's shoulder and heaved a few more tears, the perfect picture of heartbroken misery.

It was lovely to watch.

And it only got better as the shock and horror of democracy's result on November 8 inflicted its dreadful torments on Generation Snowflake, whose serried brat-allions, summoned by social media, turned out to march down Fifth Avenue that night. I heard about the protest over dinner with my son, a dual-citizen who lives in New York and whose phone was running hot with Facebook messages from contacts variously de-friending him or simply heaping abuse on his tousled head.

"I've just been called a fascist again," he said with a rueful smile after a message from his gender-fluid cousin interrupted the poori and chicken-liver appetiser. His crime against leftist sensibilities? He had observed via Facebook that there might well have been another Democrat destined for the White House if Team Hillary had not rigged the primary system in order to render Bernie Sanders a mere annoyance, rather than a bona fide contender. He had a point. …

The truculence being paraded down Fifth Avenue seemed the product of political disappointment and a consequence of errant parenting. This was Generation Brat in full voice and the self-absorption was deafening. The anticipated pleasure of victory on election night had been denied them, so the response was a tantrum. The election was invalid, yelled a bearded young fellow from beneath his fashionable man-bun, never bothering to exclaim why the orderly and honest exercise of a nation's franchise needed to be overturned. At another corner, an obese young woman was being hugged in her tearful misery by a coterie of friends, all equally upset. There was the chanting of predictable couplets—"Hey, ho, / Trump's gotta go" and "Dump Trump / Dump Trump"—and vows and pledges to oppose and frustrate "the racist Trump agenda" at every turn. Had these children never before been denied that for which they wished? Evidently not, and now they were throwing a tantrum worthy of toddlers. And not just in New York: across America similar rallies were congealing.
Read the whole thing.
Hat tip to Karen L. Myers.