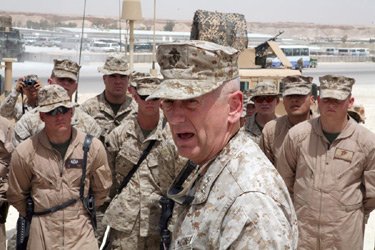 Just days after retired Marine Gen. James Mattis was officially tapped as Trump's nomination for defense secretary, he vowed to reporters that if approved by Congress he would "make killing great again."

"The first time we blow an enemy nation completely off the map will not be an insignificant event," Mattis said. "The survivors of the globe will write about what we do for the next 10,000 years."

There has been unprecedented bipartisan support for "Mad Dog" Mattis' nomination, as many lawmakers are fearful of receiving a vigorous ass kicking from the retired Marine general.

"He testified on Capitol Hill once, pushed me on the ground, and then took my lunch money," said Democratic Rep. Tammy Duckworth of Illinois. "I'm all about him being SecDef if he stops calling me girl's names."

Meanwhile, Pentagon brass are scrambling to figure out how they are going to brief the incoming Defense Secretary without PowerPoint.

"I once gave a short but exciting PowerPoint brief to General Mattis," said a Marine officer who wished to remain anonymous. "I was on light duty for three weeks after that."

Confident in his approval by Congress, Mattis has already ordered all military maps to be changed from having a label of "Middle East" to "Free Parking."

At press time, Rep. Seth Moulton (D-Mass.), a former Marine officer, was seen pleading — with tears in his eyes — that Sen. Kirsten Gillibrand (D-N.Y.) not try and cross Mattis, for fear he'll kill them all.