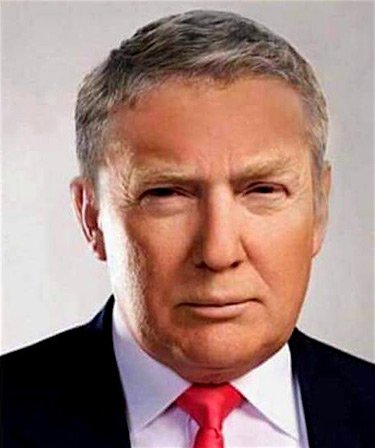 While he was still running for president in October of 1860, Abraham Lincoln received a letter from eleven-year-old Grace Bedell advising him to improve his appearance by growing a beard. Lincoln took the little girl's advice and won the presidency.
It seems a pity that Grace Bedell wasn't around this year to tell Donald Trump to get rid of the groundhog, quit dyeing his remaining hair yellow, and stop using the tanning makeup. But Gerard Van der Leun stepped up in her absence, and has offered a Photoshop makeover of The Donald, demonstrating that he could look pretty respectable.
Trump should hire Gerard to supervise his personal grooming.
—————————————————
It would also help the President-Elect look better and more presidential to get better suits from a better tailor, to wear grey flannel, pin-stripe, and occasionally glen plaid and not only always the same Navy Blue.
Someone needs to explain to Mr. Trump that a gentleman looks best wearing his suit coat buttoned (one button only) when standing up.
An older, gravitationally-challenged fellow might also look better wearing a vested suit.
Mr. Trump really needs a letter from Grace Bedell pointing out to him that he ties his neckties too long. One's necktie ought to end in the middle of one's beltline. Mr. Trump's ties are invariably tied with the front dangling down far too long. The above photo demonstrates that Trump ties his neckties so long in front that the rear portion of the tie is too short to be reliably contained by the loop. Poor Donald has reduced himself to having to scotchtape his tie together in back. Jesus wept!