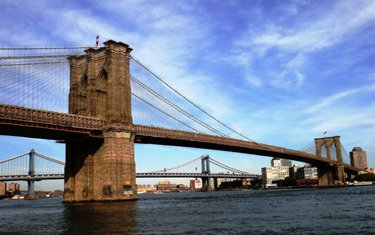 They started construction on the Brooklyn Bridge 140 years ago, yesterday, 3 January 1876. General Custer and Wild Bill Hickock were both still in good health at the time.
The pressure-related malady, "the bends," was diagnosed for the first time in the course of construction of the bridge's pilings.
The bridge's original design engineer, John A. Roebling, died in 1869, before construction had begun, of tetanus, contracted when his foot was crushed by an arriving ferry while he was selecting a location for the bridge.
His son, Washington Roebling, took over the project, and became disabled during the course of the project by the bends from visiting the caisson. His wife, Emily Warren Roebling, taught herself engineering and effectively took over day-to-day supervision and management of the project.
Emily Roebling and the Brooklyn Bridge
The bridge was completed in 1883.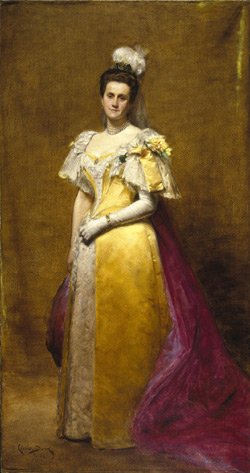 Carolus-Duran, Portrait of Emily Warren Roebling, circa 1896, Brooklyn Museum.