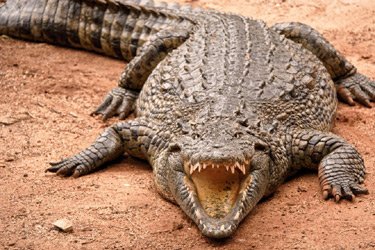 She just snapped.

A French tourist was bitten by a crocodile after posing next to the enormous reptile in a misguided attempt to take a selfie, according to reports.

The 41-year-old woman was exploring Thailand's Khao Yai National Park with her husband when the duo came across the giant female reptile, reported The Mirror.

The couple squatted down next to the crocodile, which then reportedly sank its teeth into the woman's thigh as the picture was taken.

Snaps from the scene show the woman being whisked away by rescuers, as the croc ambles away through the brush.

The park reportedly posts many signs telling visitors to stay on paths and not detour through the thicket.

The unnamed woman, whose leg appears bandaged, was transported to an area hospital, where she was treated for her injuries.

Her condition remains unknown.

The crocodile remains at large.
Hat tip to Jim Harberson.