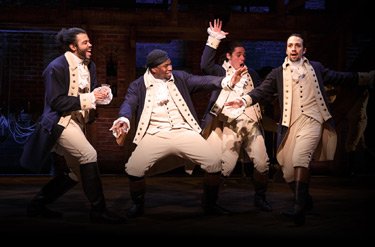 Nicholas Pell, at Reason, demolishes Hamilton, the PC Musical which the chattering classes love.
We have Lin-Manuel Miranda to blame for this cultural atrocity, a scion of a psychologist and an advisor to New York mayor Ed Koch, who attended the same elementary and high school as Supreme Court Justice Elena Kagan. Sure, he got bullied by Immortal Technique in school, but how much street cred is that really worth? After this he attended Wesleyan University, a top-10-ranked school that costs $65,000 a year, according to Forbes, before making his mark writing jingles for noted prostitute-enthusiast Eliot Spitzer's 2006 campaign. The original version of Hamilton debuted at a Vassar College workshop. All this is, of course, an attempt to firmly establish Miranda's street cred, which is unassailable.

Some are irritated about the people who aren't white playing white people, but I'm not. The whole production plays so fast and loose with the truth that it's hard to pick any particular piece to criticize, there's a reality correlation approximating that of the Weekly World News. At the top of the list, though, has to be casting Alexander Hamilton as some sort of proto-multicultural progressive. That's either stupidity or mendacity, take your pick. Hamilton was, if anything, the most aristocratic of the Founding Fathers, the closest thing to a Colonial Tory. You know that electoral college you've been gnashing your teeth over for the last couple months? Guess whose idea that was?

Of course, shit music and feels-over-reals weren't the whole problem with America in 2016—and they aren't the biggest deal facing us in 2017, either. No, the worst thing about this present moment in time is the smugness with which zillionaires and their sycophants on the coasts piss all over anyone who does actual work for a living.

That's not just one of the main reasons that Trump won the election. That attitude makes for garbage art.

Historically speaking, you've got high art and folk art, each with their own set of aesthetic guidelines and measuring sticks. What's historically anomalous is commercial art—art that exists not due to the patronage of cultured elites or through the unrewarded efforts of the hoi polloi. It's art that exists to make money.

Art that exists to make money isn't a bad thing. A lot of the best music of the 20th century was commercial art. The Beatles are probably one of a handful of things anyone will remember about the 20th century in 500 years, a stunning example of commercial art as inspired genius. What's irritating, though, is when well-connected millionaires make art for the sake of signaling their moral superiority over the masses on the basis of their correct beliefs. Hamilton has become a sort of avatar of the Lena Dunham Democratic Party against the rest of the world, perhaps best displayed by the cast lecturing Vice President Elect Mike Pence (the closest thing to a Wal-Mart greeter they'll ever be in the same room as) about tolerance.

Tickets for Hamtilton start between $179 and $199, with high-end tickets going for $849. Once they hit the secondary market (A.K.A. scalpers) you're looking at between $650 and $1500 on Stubhub. Is this because it's the best musical on Broadway? Or is it because Hamilton is this season's most fashionable way to signal liberal respectability and status among the One Percenters?

This isn't speaking truth to power. This is power telling the rest of us what truth is. There's nary a hint of self-awareness as those only vaguely aware of poverty and toil through a sociology textbook deign to lecture us little people about America's 'real values.' That's what's wrong with America in the current year.

The election of Donald Trump and the leave vote in the United Kingdom aren't just political decisions. They're a cultural revolt against the pomposity of upper-crust liberals who don't have to live with the consequences of their own values. Hamilton is where the modern day Marie Antoinettes tell unemployed forklift drivers to eat cake.

Off in the distance, the sans cullotes are sharpening the guillotine. The aloof nobles catching the latest performance of Hamilton have no idea they're about to be cast—much against their will—in a bit part in Les Miserables.