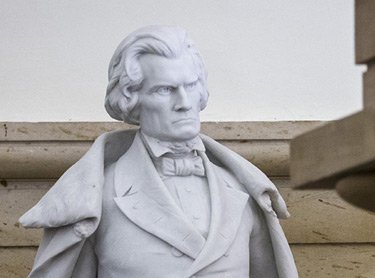 Detail, statue of John C. Calhoun in U.S. Capitol.
The little bolsheviks at the Oldest College Daily gleefully report that the inevitable has happened.
Yale President Peter Salovey and the other invertebrates making up the Yale Corporation on Saturday acted upon the recommendation of Salovey's hand-picked committee of SJWs and re-named Calhoun College. In future, the Yale residential college formerly bearing the name of the 19th century statesman holding the highest rank in American Government of any deceased Yale graduate at the time the original ten colleges were named will be renamed in favor of Grace Hopper, a black* female who attended Yale Graduate School, taught Mathematics at Vassar, and then served in the Navy Reserve.
Yale's traditional primary emphasis on the undergraduate college, in 1930, would have excluded any mere Graduate School alumn from consideration for such an honor, but Peter Salovey himself went to Stanford and only attended Yale grad school. Under Salovey, two newly-built residential colleges were recently named for Ben Franklin, whose only connection to Yale was his receipt of an honorary degree, and for some black lesbian (whom nobody not a communist had ever heard of) who went to Yale Law School.
Poor old John Calhoun has been singled out as an exceptional advocate of Slavery by today's Radical Activist Left based on their hyper-simplified Howard-Zinn-comic-book view of American history. They haven't, so far, figured out that Elihu Yale traded slaves, that Reverend Davenport owned slaves, that Samuel F.B. Morse was a keener defender of Slavery than John Calhoun, that Benjamin Silliman's Yale tuition was raised by the sale of some slaves, that Bishop Berkeley has a college because he kindly gave Yale a plantation equipped with slaves, and so on.
What is important about this farce is the tragic fact that both the Yale President and the Yale Corporation have proven themselves both too cowardly and too intellectually nugatory to stand up to the childish demands of the activist campus mob. They feel themselves obliged to follow the lead, and to take moral instruction, from the Radical Left simply, in the final analysis, because the Left has strong moral opinions, and they, "men with empty chests," as C.S. Lewis put it, have none at all.
God help Yale, God help America, when the highest of places in the national establishment are occupied by such completely useless nonentities and poltroons.
—————————–
Correction: Grace Hopper wasn't black, merely female. I was misled by her photograph in old age. Thanks to Joel Pomerantz.