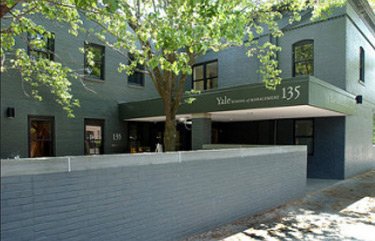 Founders Hall, 135 Prospect Street
The OCD reports important news:
The Office of Lesbian, Gay, Bisexual, Transgender and Queer Resources will relocate from Swing Space to the ground floor of Founders Hall in August, according to an email Secretary and Vice President for Student Life Kimberly Goff-Crews sent to students Wednesday morning.

The office, which was founded in 2009 and has operated out of Swing Space since 2013, provides programming, education and outreach to the University community on topics concerning sexual orientation and gender identity. The move to Founders Hall, located at 135 Prospect St., will situate the office in a 2,200-square-foot space with a lounge, full kitchen, all-gender restrooms and a multipurpose room for events. The office will also have shared access to 1,400 square feet of meeting space and two exterior courtyards. Students and faculty interviewed said the office's new home will provide a more accessible meeting space for Yale's LGBTQ community and enable its growth.

"The relocation and expansion of the office is terrific materially and symbolically," said Women's, Gender, and Sexuality Studies professor Joseph Fischel. "I have been on campus for a relatively short period of time — four academic years — but it strikes me that the Yale community is by and large celebratory of gender and sexual diversity. So it is wonderful to see this appreciation institutionalized."

Maria Trumpler, the director of the Office of LGBTQ Resources and a WGSS professor, said the size and amenities of the new location — which was designed by architecture firm Moser Pilon Nelson Architects and housed the School of Management until early 2014— will allow the office to expand programming and host more events. She added that the new space will ideally look and feel more like a cultural center, with drop-in space and a house staff like that of the four cultural centers. The office will be open daily until 10 p.m., and student staff will be available for conversations and programming, Trumpler said. …

In fall 2016, the Yale College Council LGBT Resources Task Force released a report calling for the relocation and expansion of the LGBTQ Resource Office, based on student feedback that the physical space was too small.
I find all this particularly interesting since I am otherwise aware that undergraduate fraternal, political, debating, a capella singing groups, and Political Union parties, these days, are not allowed to use Common Rooms and Residential College meeting spaces. Alumni of these student organizations have to raise thousands of dollars per annum through individual alumni contributions to rent rooms for undergraduate group meetings and debates off-campus.
Yale recently took away the Aurelian Honor Society's historic rooms in Sheffield-Sterling-Strathcona Hall.
Historic, traditional, and legitimate undergraduate groups are looked upon by the Yale Administration with suspicion and disfavor: they might be drinking! they might be untidy! Worse, they might be exclusive!
But Sexual Perversion and Psychological Abnormality are, today, enshrined at Yale as a privileged combined identity group worthy of recognition, representation, financial subsidy, staffing, a full-kitchen, and its own department of academic study.
Personally, I am offended by the complete absence of rooms, directorates of resources, representation, and academic majors for Sportsmen, Shooters, Gun Collectors, Rednecks, Polacks, and Right-Wingers. If Yale ever comes to its senses, I have my eye on the original Wolf's Head Hall at 77 Prospect Street.