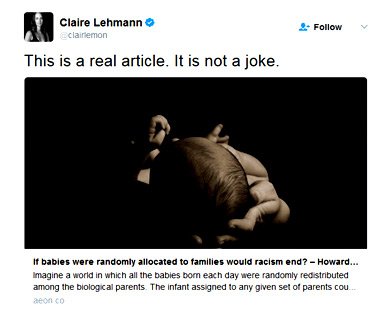 Real article by Howard Rachlin, Emeritus Research Professor of Psychology, Stony Brook University and Marvin Frankel, Professor of psychology, Sarah Lawrence College:
It may be objected that parents' desire to have their own biological children is so strong that they would be blind to the public good, that they would have babies and bring them up in secret. But those babies would not have birth certificates, they would not be citizens, they could not vote, serve in public office and so forth. If discovered, the children might be taken away after the strong bonds of psychological (as opposed to biological) parenthood had been formed. Few Americans would risk these penalties. …

Genetic chauvinism lives on very strongly in our culture. Modern fiction and cinema often present adoptees' searches for biological parents and siblings in a highly positive light. The law in child custody cases is biased towards biological parents over real parents. You might claim that this bias itself is 'natural'. It is so common as to seem part of our biological makeup. But subjugation of women was also common in primitive human cultures and remains so in many cultures today. Unnatural as it sounds, social mixing promises many advantages. If we are not willing to adopt it, we should consider carefully why. And if naturalness is the key, we should ask ourselves why on this matter, ungoverned nature should trump social cohesion.