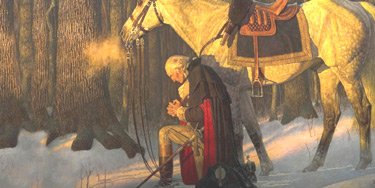 Detail: Arnold Friberg, The Prayer at Valley Forge, 1976.
Jefferson Shupe sees a strong resemblance between George Washington and Frodo,
On an estate in Northern Virginia, there lived a hobbit.

He lived in the countryside and liked to keep to himself. He was slow to make speeches or draw attention. He loved things that grow and preferred quiet evenings at home to far-away adventures.

His name was George Washington.

No, he didn't fit the visual hobbit stereotype. He was 6'2″, wore shoes, and we have no record of him visiting Middle Earth even once. But hobbits are curious things, and given his life and his choices, he may have been one all the same.
Read the whole thing.