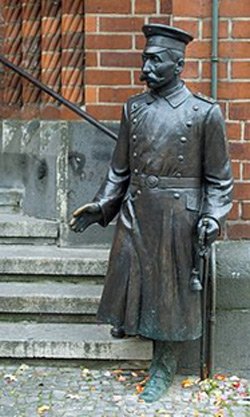 Michael Burden had the answer on Quora.
The elderly Prussian army captain marched smartly up to a platoon of soldiers on a Berlin street and began to bark orders imperiously. He stopped a bus bound for the outlying Kopenick district and hustled the men abroad. There, as shown in the picture below, he marched them briskly to the office of Kopenick's mayor and snapped: "You are under arrest !" Intimidated by the authoritative overbearing manner of the army officer, the mayor managed to ask timidly "Where is your warrant ?" "My warrant" roared the captain "is the men I command." The mayor, himself a reserve officer, was curious about the captain's appearance at the time, but he kept his curiosity to himself. The captain then ordered the borough treasurer to hand over all of the cash in the treasury, just over 4,000 marks, and issued an "official" receipt. The mayor, his wife, the treasurer and the deputy mayor were then marched outside the town hall and held under guard. The captain ordered his men to stay at their posts for half an hour and marched away with the 4,000 marks.

The captain was in fact Wilhelm Voigt, a cobbler and ex-convict who had exploited the Prussian awe of uniformed authority to rob Kopenick of its petty cash in October 1906. Ten days later, when the police arrived at Voigt's attic home, they found the uniform wrapped in a bundle. He did not resist arrest but asked only to be allowed to finish his breakfast. Voigt, who explained that he had learnt to mimic the speech and mannerisms of Prussian officers while mending their boots as an apprentice, was jailed for four years.

His exploits had attracted great public sympathy and affection, however, and he was pardoned by the Kaiser after serving half his sentence. Voigt retired in comfort to Luxembourg on a life pension, given to him by a rich Berlin dowager who had been impressed by his sheer audacity.