12 Sep 2018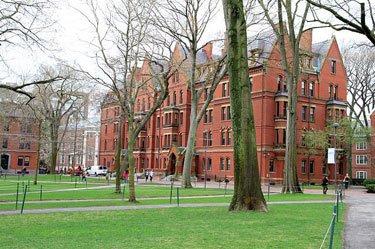 Harvard.
I once answered a question on Quora about Yale, so pretty much every day I receive a email asking to answer the question "How do I get into Yale?" from some exotic resident of the remote Third World.
Clearly, the mysteries of elite Ivy League admissions are an intriguing topic these days all over the world.
I ran into a Quora posting this morning from a U. Chicago guy named Hasnat, quoting an anonymous Harvard 2006 graduate who had worked in the Harvard Admissions Office.
I thought it pretty accurately captured a home truth applicable to Yale as well, that, beyond grades and test scores (which had better be high), they are looking for a certain kind of exceptionality and competitiveness. They want people out of the ordinary.
I think you need to join Quora and all that to open a link, so I cut-and-pasted the whole bloody thing to make life easier for NYM readers.
[A] little bit of advice.

"First of all, there are a number of small factors that can move the admissions needle in small amounts: location, economic background, race. You can just accept that these exist and don't really count for much—a slight counterbalance to the general advantages that wealthier folks tend to enjoy as a rule. Or you can spend millions of dollars on lawyers and consultants, and hundreds of hours fighting in court in order to claw back this tiny little potential advantage from those in the lower half of the socioeconomic spectrum.

"Either way, these are things beyond your control, and I'd recommend not worrying about them. Frankly, it's the cheaper and quicker option.

"Otherwise, the official party line, as taken verbatim from Harvard's longtime Dean of Admissions, William Fitzsimmons (class of 1963, dean since 1986) is that Harvard selects for "academic excellence, extracurricular distinction, and personal qualities." And that sounds good—who doesn't love excellence?—until you think about it.

"What Dean Fitzsimmons really means is that he isn't going to tell you anything substantial (that's why he's lasted for so long in his job). So I will tell you that in this context, measuring "academic excellence" really boils down to two things: Will this applicant graduate on time and happy?

"Pure intelligence is one part, hence the focus on scores and GPAs. Harvard is difficult, and someone who has never seen a differential equation will probably struggle in the basic required math courses; isomeone who has never read a Steinbeck novel or a Shakespeare play will probably feel excluded from general English Lit.

"But so is extracurricular activity. You might be smart, but do you have the discipline to keep going for four years? How do you respond to setbacks, challenges, opposition? Do you show signs of life in the wider world? In short: are you of sound mind?

"The 4.0 student who just works the ball-washing station at the country club does not necessarily demonstrate great time-management skills. On the other hand, we'll take the person who has an A-minus GPA but spends most of her free time in a research lab breeding generations of flies for genetic tests, thank you very much. This is why admissions officers will say "well-rounded" until they're blue in the face. There's nothing wrong with plain old eggheads—but let's try and get out there once in a while, too.

"And when the committee selects for the mysterious and ephemeral "personal qualities," well, we want to know how much of a jerk the candidate is, and how well they'll respond to a campus full of jerks.

"Let's be honest: Harvard and its affiliates will inflict some kind of damage (academic, emotional, occasionally physical) on everyone who lingers there. It is a place where everyone is out to get everyone else. In a place where no one can be the best at everything, everyone takes any chance they can get to measure up to their peers. It is a mob of ruthless young overachievers with a taste for blood.

"Ayn Rand, eat your heart out. Your Objectivist paradise is alive and well, and its name is Harvard. Here, people believe that each of them is a "heroic being," that their individual happiness is a moral absolute, that their own reason is ironclad and incorruptible. Just look at what four years of that does to a person. Never mind the outliers like Mark Zuckerberg and Ted Kaczynski. You just need to look at the offices of Wall Street investment banks (where half of the graduating class of Harvard ends up every year). Or the op-ed pages of New York newspapers. Or the halls of Congress (one shudders at the thought).
Read the rest of this entry »