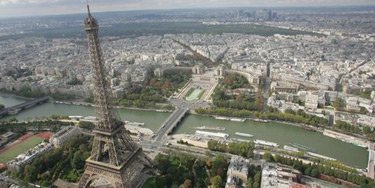 Christopher Caldwell, in City Journal, discusses the untranslated three-book oeuvre of French commentator Christophe Guilluy, a specialist observer of French demographics, real estate, and economic developments, who describes the development, in France, of a similar practical separation and conflict of interests between the prosperous urban community of fashion elite and La France périphérique, the Gallic equivalent of Fly-Over America.
[T]he urban real-estate market is a pitiless sorting machine. Rich people and up-and-comers buy the private housing stock in desirable cities and thereby bid up its cost. Guilluy notes that one real-estate agent on the Île Saint-Louis in Paris now sells "lofts" of three square meters, or about 30 square feet, for €50,000. The situation resembles that in London, where, according to Le Monde, the average monthly rent (£2,580) now exceeds the average monthly salary (£2,300).

The laid-off, the less educated, the mistrained—all must rebuild their lives in what Guilluy calls (in the title of his second book) La France périphérique. This is the key term in Guilluy's sociological vocabulary, and much misunderstood in France, so it is worth clarifying: it is neither a synonym for the boondocks nor a measure of distance from the city center. (Most of France's small cities, in fact, are in la France périphérique.) Rather, the term measures distance from the functioning parts of the global economy. France's best-performing urban nodes have arguably never been richer or better-stocked with cultural and retail amenities. But too few such places exist to carry a national economy. When France's was a national economy, its median workers were well compensated and well protected from illness, age, and other vicissitudes. In a knowledge economy, these workers have largely been exiled from the places where the economy still functions. They have been replaced by immigrants. …

Top executives (at 54 percent) are content with the current number of migrants in France. But only 38 percent of mid-level professionals, 27 percent of laborers, and 23 percent of clerical workers feel similarly. As for the migrants themselves (whose views are seldom taken into account in French immigration discussions), living in Paris instead of Boumako is a windfall even under the worst of circumstances. In certain respects, migrants actually have it better than natives, Guilluy stresses. He is not referring to affirmative action. Inhabitants of government-designated "sensitive urban zones" (ZUS) do receive special benefits these days. But since the French cherish equality of citizenship as a political ideal, racial preferences in hiring and education took much longer to be imposed than in other countries. They've been operational for little more than a decade. A more important advantage, as geographer Guilluy sees it, is that immigrants living in the urban slums, despite appearances, remain "in the arena." They are near public transportation, schools, and a real job market that might have hundreds of thousands of vacancies. At a time when rural France is getting more sedentary, the ZUS are the places in France that enjoy the most residential mobility: it's better in the banlieues.

In France, the Parti Socialiste, like the Democratic Party in the U.S. or Labour in Britain, has remade itself based on a recognition of this new demographic and political reality. François Hollande built his 2012 presidential victory on a strategy outlined in October 2011 by Bruno Jeanbart and the late Olivier Ferrand of the Socialist think tank Terra Nova. Largely because of cultural questions, the authors warned, the working class no longer voted for the Left. The consultants suggested a replacement coalition of ethnic minorities, people with advanced degrees (usually prospering in new-economy jobs), women, youths, and non-Catholics—a French version of the Obama bloc. It did not make up, in itself, an electoral majority, but it possessed sufficient cultural power to attract one.
It is only too easy to see why a populist and nationalist revolt against the elite urban community of fashion is an international development.
A must-read.