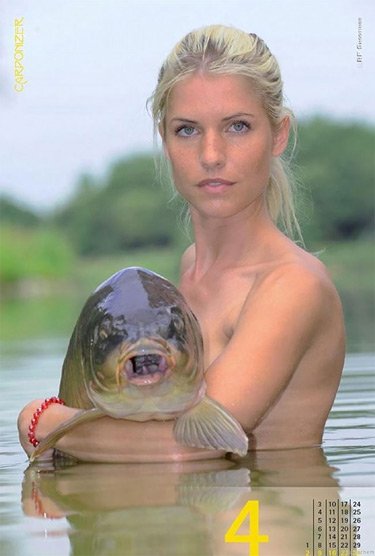 Yes, There Is A 'Sexy Women Holding Carp' NSFW Calendar And, Of Course, It's Gotta Be From Germany

The calendar is the brainchild of a certain Hendrik Pöhler, a native of Germany who sells equipment for carp fishing for a living. To get these priceless pics, photographer Raphael Faraggi runs the shoots in France over four weeks. He is assisted by "two competent caretakers," who are charged with cleaning and polishing the carps' scales before they are given to the models for the big pose.

"The idea for the calendar was to bring two of the greatest hobbies of men, fishing and women together. I remember the day when I was fishing with my friend and at the spot next to us were two hot girls fishing. This was the moment I decided to make this fabulous calendar."
Hat tip to Vanderleun.