The Free Beacon explains to the confused that a "Symbolic Hunger Strike" is a Hunger Strike in which the activist striker is allowed to take time out of Hunger Striking and get a bite to eat while a replacement striker fills in for him on the hunger line.
A group of Yale University graduate students announced Tuesday evening that they would be undertaking a hunger strike to pressure the administration into granting them better union benefits. The strike is taking place in front of University President Peter Salovey's home.

"Yale wants to make us wait and wait and wait … until we give up and go away," the eight members of the graduate student union Local 33 announced. "We have committed ourselves to waiting without eating."

Yale doctoral students currently earn a stipend $30,000 a year, receive free health care, and have their $40,000 tuition paid in full, according to Yale News. The university administration said in a statement that they understood the students concerns, but "strongly [urge] that students not put their health at risk or encourage others to do so."

As it turns out, the hunger strike might not put anyone's health in peril. According to a pamphlet posted on Twitter by a former Yale student, the hunger strike is "symbolic" and protesters can leave and get food when they can no longer go on.
—————————-
UPDATE: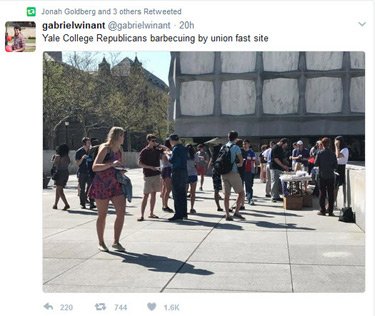 Hat tip to Glenn Reynolds.