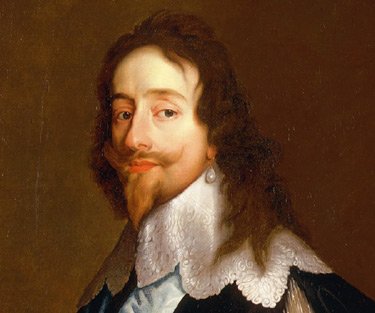 Charles I, the classic reactionary.
A stopped clock is right two times a day, and once in a blue moon Andrew Sullivan is still capable of writing a very intelligent essay. Here is Andrew explaining why the Populist Nationalist Right has arisen as a political force capable of asserting its own will, and why its issues and perspectives deserve serious consideration.
The pendulum is always swinging. Sometimes it swings back with unusual speed and power.

You can almost feel the g-force today. What are this generation's reactionaries reacting to? They're reacting, as they have always done, to modernity. But their current reaction is proportional to the bewildering pace of change in the world today. They are responding, at some deep, visceral level, to the sense that they are no longer in control of their own lives. They see the relentless tides of globalization, free trade, multiculturalism, and mass immigration eroding their sense of national identity. They believe that the profound shifts in the global economy reward highly educated, multicultural enclaves and punish more racially and culturally homogeneous working-class populations. And they rebel against the entrenched power of elites who, in their view, reflexively sustain all of the above.

I know why many want to dismiss all of this as mere hate, as some of it certainly is. I also recognize that engaging with the ideas of this movement is a tricky exercise in our current political climate. Among many liberals, there is an understandable impulse to raise the drawbridge, to deny certain ideas access to respectable conversation, to prevent certain concepts from being "normalized." But the normalization has already occurred — thanks, largely, to voters across the West — and willfully blinding ourselves to the most potent political movement of the moment will not make it go away. Indeed, the more I read today's more serious reactionary writers, the more I'm convinced they are much more in tune with the current global mood than today's conservatives, liberals, and progressives. I find myself repelled by many of their themes — and yet, at the same time, drawn in by their unmistakable relevance. I'm even tempted, at times, to share George Orwell's view of the neo-reactionaries of his age: that, although they can sometimes spew dangerous nonsense, they're smarter and more influential than we tend to think, and that "up to a point, they are right."
A must-read article.