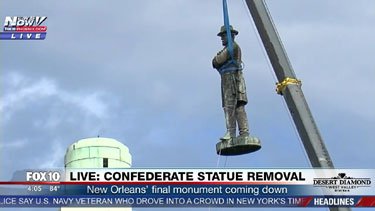 The statue of Robert E. Lee recently comes down in New Orleans.
How did New Orleans move from being "the Queen City of the South" to a decaying minority slum ruled by crooked pols whose chief priority is taking down Confederate Monuments? A long-term resident explains on Quora:
New Orleans was still the Queen City Of The South until around 1970, but the seeds for its fall from grace came about in the mid 1960s when the unions that worked the port refused to allow for the creation of a modern containerized port foolishly thinking that they would lose their jobs, but they forgot to understand the nature of future business and eventually they lost all of their jobs.

The immediate result was that formally small ports like Gulfport and Houston suddenly modernized and containerized and became giant ports, while New Orleans' port became smaller and smaller and today is extinct and has been replaced by the Port Of Louisiana, which is far away from the filth and poverty of New Orleans.

Additionally, as the city developed a larger and larger dependent population and its educational system decayed, it reflected these changes with a terrible lowering of the quality of leadership that increased the cost of doing business, while leadership concentrated on keeping its dependent population satisfied with shiny trinkets and other diversions.

So, one by one, large employers either went out of business or got smaller and smaller and the economy became less diversified until today there is only tourism and no other diversification.

Continental Can, sugar, cotton, iron and steel, American Standard, trade with South America, aircraft manufacture, boat manufacture, etc, etc, etc, are all gone and have not been replaced with any other industry. City taxes in New Orleans went up from 3% to today's almost 10%. The productive fled!

The same politicians who helped to destroy the economy are still in office and the city is currently loosing population and becoming more and more poor and now is #1 in the nation with percentage of people in poverty.

Since the percentage of those in poverty continues to increase and the same politicians are kept in office by the poverty vote, it becomes an endless cycle of increasing taxes and fees on the productive, who have left en mass to surrounding areas like Metairie and the North Shore towns of Covington and Mandeville and Slidell, where diversification of their economies is strong and education is first rate and the people live better lives than the remnant population of New Orleans.

The trend to lower the quality of New Orleans continues, as drugs and crime is beginning to affect the one trick pony of the remaining economy, tourism, that still sputters along. Unfortunately, once the number of injured and murdered tourists becomes unbearable, even that small flicker of life will kill what is left of New Orleans, when that industry folds.

And, that is why the Queen City Of The South has degenerated into the cesspool of poverty and ignorance and bad governance of today. It is a very sad tale.
San Francisco's story is actually similar. Just like in New Orleans, the Longshoreman's Union chased the port traffic out of town. Over time, normal productive middle-class residents were gradually displaced and out-voted by the homosexuals, minorities, rich liberal elites, and student Bohemians.